PRESIDENT'S MESSAGE
Dan Rorvig, President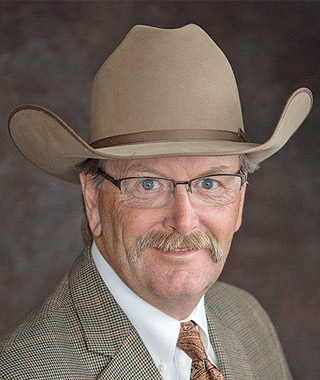 Hello from Nelson County! You're reading this in February while it is being written in the middle of January, therefore, if there are lapses in information or you think my story is behind the times, bear with me.
The legislative process has started, and I had the opportunity to spend the day at the capitol the other day with our staff and several directors. It is very impressive to see these folks work the hallways and committee rooms, talking with our senators and representatives as they work through the process of hearings and lawmaking. It is also very impressive to see the respect these people receive from lawmakers. It doesn't matter which political party has a concern or question, the NDSA is the one asked for input. These folks have a huge responsibility representing the beef industry.
I also want to take this opportunity to thank lawmakers, the governor and all aides and staffers for the help and cooperation you afford the NDSA. Thank you to the NDSA staff in the office and those out on the ranches that keep the lights on and the wheels turning. It is extra long hours, late nights and early morning meetings for all.
I had the opportunity to join an early morning breakfast meeting with the Ag Coalition and lawmakers. This is a consortium of ag industry leaders and other commodity groups who meet for the benefit of discussing common problems and goals.
The NDSA had two bills go through the hearing process the other day. The first bill would allow freeze brands to be recognized as legal proof of ownership on cattle. The second, relating to animal seizures, would clarify due process procedures. Both received unanimous do-pass recommendations in their respective committees.
Coming very soon are two very important issues. One involves fake meat and how it affects our industry. The second is the posting bill. By the time you read this, their fate might have been decided.
The posting bill is getting a lot of attention. It is our intention to change the law so that all private property would be considered posted unless otherwise noted. This proposal also includes a digital feature, allowing those who want to open their lands for public access the ability to do so. While meeting with the governor's office, it was noted that Gov. Doug Burgum's budget includes $150,000 to help with this component.
Please keep in mind that this has never been a hunting issue. It is purely a property rights issue. Landowners want to know who is on their property and why. The loudest pushback to this proposal seems to come from hunting and tourism groups. That frustrates me, as I bet nearly all those people are private property owners themselves. They all own homes, businesses or other property. Also, please keep in mind that we are surrounded by states that do not require posting in order to have the right to grant or deny access. Hunting access and the recreation industries in those states appear to be very vibrant. We are not inventing the wheel, just trying to catch up.
New deputy
I want to make a quick shoutout and welcome to our new deputy brand inspector, James Wenning of Beulah. He brings 20 years of law enforcement experience to the NDSA. Welcome and good luck.
Keep in mind, when in doubt, shut the gate.