President's Message
Dan Rorvig, President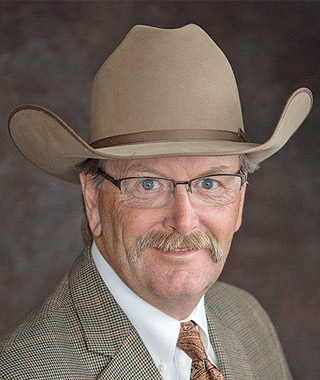 Spring is here . The meadowlarks have shown up . The Sheyenne River did its annual bust-out-of-its-banks and has gone back in . Easter has come and gone, and we had our first calf . The little fellow came 10 days early, but I guess the gestation table is merely a suggestion . I will know for sure spring is here when the crocuses start popping up . That's the sure sign I wait for every year .
As stated, we just started calving, while many of you are much farther along and, some, even done . For us, that means time to put air in the tires of the Rangers, gather up some ear tags and comb the cockleburs out of the horses' manes .
It's an exciting time of year for everyone, especially those in agriculture . Many of the bulls have been bought . The wheat and bean seed has been selected . Breeding plans and planting intentions have been laid out . Now, we must execute and pray for timely rains . Mother Nature drives this bus .
Speaking of Mother Nature, she has been a tough old sister on our neighbors to the south . Keep in mind, the NDSA and North Dakota Stockmen's Foundation (NDSF) have initiated a program for their aid . The organizations have jump-started the program with a gift of $10,000 . Please do what you can .
LEGISLATIVE WORK
At the association level, we have been busy . Executive Vice President Julie Ellingson, other staff and many directors and members have spent uncountable hours working for you at the capitol . Please use the information in the North Dakota Stockman to keep informed on the various topics and issues going on . I would like to personally thank each of you who have been there to testify, support, call and contact our legislators this session . We hope, when the dust settles, we can call it a success for our members, association and state .
CAPITOL HILL VISIT
In April, NDSA Vice President Jeff Schafer and I were able to attend the National Cattlemen's Beef Association (NCBA) Legislative Conference . That was my first trip to Washington, D . C . What an amazing place and process . We were able to visit with all three of North Dakota's legislators and their aides while there . In our situation, these are very easy conversations to have, as our legislators are very supportive of the NDSA . We have a very good working relationship .
While we discussed many topics, including the electronic logging mandate device, the Green New Deal, Waters of the United States and the overall benefits of grazing, the topic rising to the forefront was trade . The NDSA supports swift ratification of the United-States-Mexico-Canada Agreement (USMCA) . We are a trading nation . Let us trade .
Also while in D . C . , we spent some time visiting other government agencies . I was able to listen to Dr . Mindy Brashaers of the U . S . Department of Agriculture's Food Safety and Inspection Service as she discussed the fake meat issue and how the product will be monitored and labeled . She said, at this point, it is a bit hard to pin down, as the final product and production process is still a concept and there is not enough commercial production to test .
I also listened to Acting Deputy Administrator Brandon Lipps of the Food and Nutrition Service as he discussed the Dietary Guidelines and the process for their formulation . I learned that a new Dietary Guideline is produced every five years . Lipps is hoping the 2020 process will be more scientifically focused than in 2015, as his group is adding a bit more guidance to the process .
SPRING ROUNDUPS
Keep this in mind the NDSA Spring Roundups are coming to your districts June 5-7 and 10-12 . Please make every attempt to get there . I know you are all busy branding, fencing, planting, spraying and every other thing this time of year, but the Spring Roundups are great opportunities to visit with your friends, neighbors and NDSA staff . We hope to see you there .
When in doubt, close the gate .