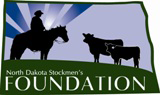 Promotion * Research * Scholarship * Leadership * Building
If you want to help preserve and enhance North Dakota's beef industry for this and future generations, consider a gift to the Stockmen's Foundation.
Because the Foundation is a 501(c)3 charitable organization, your gift is tax-deductible.
Any amount may be donated in honor of a family member or friend. Memorials will be published in the ND Stockman.
Memorials and Honorary Tributes:
Recognize a living or deceased loved one with a memorial or tribute gift. Contributions in any amount are accepted and appreciated. Contributions of $1,000 or more will be recognized with a photo in the Memorial Hall.
You may contribute to the Foundation's scholarship building or general fund or designate a use for your Foundation gift.
The Stockmen's Foundation holds a variety of fundraisers throughout the year.
Click to print form for Foundation donations.