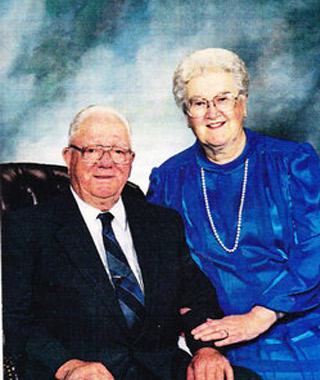 Harold and Regina "Jean" Artz
Antler
The family of the late Harold and Regina "Jean" Artz of Antler has recognized the couple with a commemorative portrait in NDSA's Memorial Hall.
Harold and Regina dedicated their lives to the livestock industry, instilling a love of agriculture in each of their 15 children, 45 grandchildren and 35 great grandchildren.
Harold was born on Aug. 19, 1913, and was raised near Antler, graduating from Antler High School and later attended North Dakota State University (NDSU), where he was a proud member of Alpha Gamma Rho and the Gold Star Marching Band.
Regina was born Feb. 27, 1921, in Antler and graduated as valedictorian from Antler High School before attending St. Andrew's School of Nursing in Bottineau.
The couple was married on Dec. 27, 1943, and lived south of Antler, where they raised their family and farmed and ranched for many years. In 1983, they moved to Westhope and later to Edgewood Vista in Minot.
Throughout his ranching career, Harold was active on many boards and associations. He served on the NDSA Advisory Council and as an NDSA director from 1973 to 1980. He was also a member of the Draft Horse Association, the Knights of Columbus and a lifetime member of the Elks and was an enthusiastic member of the Cross Country Wagon Train Association. Jean was involved in countless activities supporting the education of her children. Her garden provided not only food and enjoyment, but early job training and job security as her children helped plant and weed rows that seemed endless.
In 1977, the couple was honored by the NDSU Harvest Bowl for their contributions to North Dakota's livestock industry.