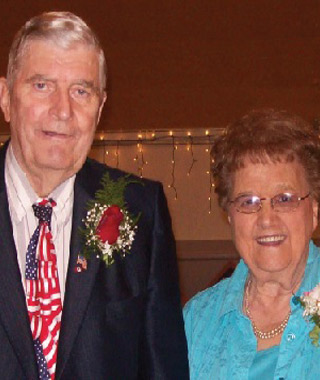 Orlin "Bill" and Lola Hanson
Sherwood
The Antler Outlaws have generated $1,500 for the Foundation and its leadership, scholarship, building, research and promotion efforts. Among its efforts, the Outlaws, along with the Sherwood American Legion and the Sherwood Mason's Lodge, coordinated a fish fry in 2012 in honor of long-time NDSA member Orlin "Bill" and Lola Hanson of Sherwood. NDSA member Mike "Ottis" Matteson of Westhope donated and cooked the fish along with Gary "Frenchy" Ledoux of Antler.
After serving four years in the U.S. Navy, Orlin returned to Renville County's Prosperity Township to begin his ranching career. In 1955, a sweet, young teacher arrived in Sherwood from Rolette and the two started dating. Orlin and Lola (Lynnes) Hanson were married in 1958 and, in 1965, moved to the ranch homesteaded by Orlin's family in 1914. Together, the couple raised three children daughter Dorea and two sons, Stan and Shawn.
Orlin and Lola continued to ranch until 2000, when they sold the farm and moved to Sherwood.
Over the years, Orlin and Lola have been very active in the American Legion and American Legion Auxiliary, Our Saviors Lutheran Church, the Masonic Lodge and all school activities in Sherwood. Orlin was also active in politics, serving as a state representative and senator from Renville County and as the chairman of the Sixth District Republicans for 10 years.