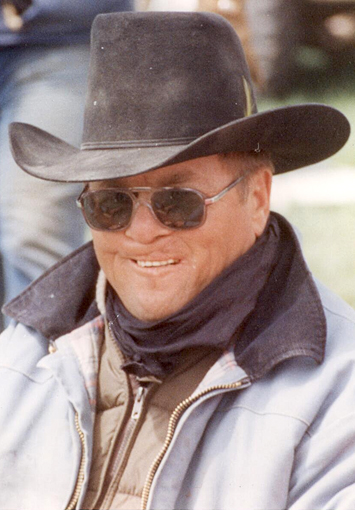 Kyle "Bud" Sperry
Trotters
Former NDSA local brand inspector Kyle "Bud" Sperry, Jr., of Trotters, is fondly remembered in the NDSA's Memorial Hall, located in the lobby of the NDSA headquarters in Bismarck.
Sperry's friends and neighbors collaborated to honor the long-time rancher, horseman and brand inspector with one of the Foundation's most solemn tributes, a commemorative photo in the hall.
"Bud touched our lives with his fun-loving, teasing nature and honest cowboy ways," said family friend and goddaughter Tracey Koester of Steele. "My husband Steve and our family felt it was important to honor his memory and his contribution to our industry in this way."
Sperry, age 68, was born on July 3, 1941, in Beach, to parents Kyle and Lillian (Russell) Sperry. He was raised on the Sperry Ranch at Trotters. Following high school in Beach, he worked for various local ranches, including the Vernon Goldsberry Ranch near Squaw Gap where he met and, after a 100-day courtship, married Marcia Bonine of Hysham, Mont. The couple made their home on the ranch near Trotters, where they raised cows, horses and two boys, Russell and Robert.
Sperry loved his family and his Lord, and he loved life on the ranch – working the chute, feeding the horses, fencing, haying or simply sharing a bowl of ice cream with his grandkids. His best days were spent on horseback, helping his friends and neighbors at spring brandings or fall roundups.
For 30-plus years, Sperry worked for the NDSA as a local brand inspector.
In 2006, he was recognized by the American Quarter Horse Association for registering horses for 30 years.
Sperry died on March 18, 2010, at his home in Trotters. He is survived by his wife of 38 years, Marcia; and two sons, Russell and Stephanie Sperry of Rising Star, Texas, and their daughters Reese and Rylan; and Robert and Tamra Sperry of Trotters and their son Kolby Kyle.
"We will all remember Bud's easiness and comfort with horses," Koester said. "We'll remember the way he proudly showed off his colts each summer and the way he talked about the young prospects they were training. We'll remember how proud he was to work for the NDSA and how he always had time to have fun and enjoy life."