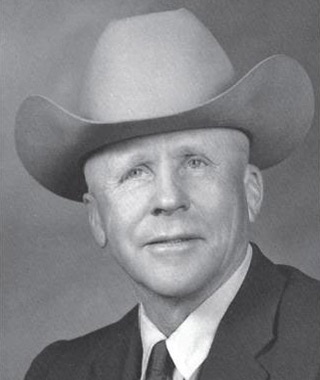 Allan W. Thompson
Fairfield
Allan Webster (A.W.) Thompson, the third of four boys, was born on Aug. 24, 1909, on the Billings County homestead of Albert (A.T.) and Julia Thompson. Allan and his brothers were actively involved in the farming and ranching operation at an early age. Upon completion of elementary school, Allan claimed to have earned his Ph.D. (post-hole digger) and elected to continue working on the ranch while his brothers pursued additional education and other endeavors.
Allan married Myrtle Nielson of Sheyenne in 1938. They took up residence at "the camp," a renovated homestead shack in the Badlands where the cattle were wintered. They spent the next eight years living at the camp while managing the day-to-day ranch operations, eventually entering into the partnership, A.T. Thompson and Son. In 1947, Allan and Myrtle moved to the original Thompson homestead near Fairfield on what is now U.S. Highway 85, along with their two children, Kay and Allan Theodore.
Allan and Myrtle managed the ranch until 1970, when the tradition was passed on to son Allan T. and his wife Joyce. They remained actively involved in the ranch work and country life for another 14 years until moving to Belfield in 1984.
The Thompson Ranch became a Centennial Farm in 2006. Allan was an honored guest at a family gathering at the original homestead hosted by granddaughter and fourth-generation rancher, Julie, and her husband Cody Reis and sons, Dillon and Emmet.
Allan was a 62-year member of the NDSA, and Myrtle was a charter member of the North Dakota Cowbelles. Allan was also a member of the 50 Years in the Saddle Club and a Cowboy Hall of Fame charter member, as was his father.
He took pride in his family and ranching. He was happy with an honest horse, good cattle, fine neighbors, a game of pool and a dose of some good fiddle music.
He was a man of few words, but the smile on his face was always proof of what he was thinking.