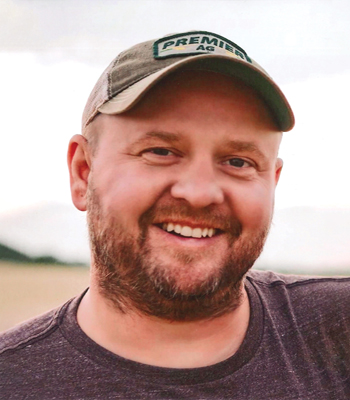 Dusty Lodoen
Westhope
Dusty Lodoen died in a farm accident September 30, 2020, doing what he loved - farming the land. He was born January 19, 1979, at St. Andrew's Hospital in Bottineau to Myron and Patty Lodoen, the middle sibling between big sister Emmy and younger brother Danen. He grew up on the family farm.
Family and friends remember Dusty as a talented, successful, intelligent, kind and influential go-getter from an early age. He was active in sports, 4-H, farming, showing cattle, wheeling and dealing and trying new things. In his earlier years, he enjoyed bull riding and his daring and no-fear attitude landed him scars and stories to tell for years to come. He also enjoyed a good debate, which always ended up in laughs, a hug, a handshake or a "cheers."
Dusty attended Westhope High School, graduating in 1997. Following graduation, he attended North Dakota State University, where he majored in agricultural economics and thoroughly enjoyed college life.
The next step in Dusty's life brought him back to Bottineau County where he worked as a loan officer for the Stat Bank of Bottineau. He later moved to Minot and worked as a loan officer for Farm Credit Services. While living in Minot, he also took on part ownership of the Pita Pit.
Dusty later returned to his hometown of Westhope, where he lived until his final day. He worked as a crop insurance agent for Artz Insurance, while also farming with his brother Danen. After a year of farming together, the brothers became "Richburg Farms" and continued to successfully expand the diversified operation. Dusty was also committed to service and was a member of several boards and committees, including the North Dakota Soybean Council from 2012 to 2015, the Westhope Country Club Board and the Border Ag Elevator Board. He was also a member of the Presbyterian Church in Westhope.
In 2011, Dusty met Kylie Thom unexpectedly and fell in love instantly. Their dating life was never boring. He constantly reminded her that she was the "love of his life," and they completed the missing pieces in each other's lives. Her family fell in love with him just as quickly. Together, they enjoyed traveling the world and hitting up sporting games, amusement parks and the best steak restaurants. Life with Dusty was spontaneous and adventurous, yet there was also a relaxing side to Dusty and they also loved lounging at home. They were united in marriage on December 12, 2015, at St. Pete Beach, Florida.
In 2016 the couple welcomed their first son, Emerson Robert, to their family. In 2019, a second son, Asher Kevin, followed. Dusty loved his boys and wife more than anything. Even on his busiest days, he remained actively involved and often invited the boys out to join him on the farm or wherever he was headed that day.
Some of Dusty's favorite hobbies included golf tournaments, men's nights, social gatherings, snowboarding, cooking, rolling dice, playing blackjack, investing in stocks, watching football (especially the NDSU Bison and the San Francisco 49ers), attending his nieces' and nephews' events, donating time to the community, napping and spending time with his belowed family and friends, even if it went well into the night. He also loved to read and was a history buff. His phone was always ringing, and he made sure to take care of everyone else's needs even before his own.
"He was a best friend of the community, the biggest donor to every charity, the biggest supporter of everything local," said Taylor Whitlock, one of Dusty's friends. "He just really did everyting he could to keep his community going strong."