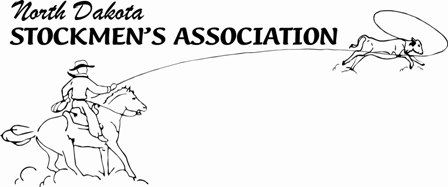 Manager, Operations Support Group, ATO Central Service Center, AJV-C2
Airspace Study 14-AGL-06NR
Department of Transportation
Federal Aviation Administration
RE: Proposed Establishment of the Powder River Training Complex Military Operations – North Dakota, South Dakota, Montana and Wyoming
The North Dakota Stockmen's Association is an 85-year-old trade organization representing nearly 3,000 North Dakota cattlemen and cattlewomen. We strive to ensure a favorable business climate and quality of life for North Dakota ranch families.
Thank you for the opportunity to comment on the proposed expansion of the Powder River Training Complex Military Operations, which would overlay eight southwestern North Dakota counties – Bowman, Slope, Grant, Adams and Hettinger Counties and the southern portions of Stark, Golden Valley and Billings Counties – and encompass approximately 28,000 square miles of air space.
North Dakota Stockmen's Association members understand the need for military operation areas and proper training of military officials within the Air Force in order to provide national security, which is paramount. However, we are opposed to the proposed expansion of the Powder River Training Complex because of the serious negative impacts it could pose to North Dakota's ranchers. Members outlined these concerns in a policy resolution adopted first in 2010, then renewed in 2013, at our organization's annual convention.
• Safety for livestock industry aviators: As you know, civilian aviation is prevalent in this area, whether it is by livestock producers checking their land and livestock or animal damage control officials controlling predators. As the North Dakota Aeronautics Commission pointed out in its comments, there is low altitude radar coverage and voice communications in this region, which shares Federal Aviation Administration Air Traffic Control (ATC) responsibilities between Salt Lake, Denver and Minneapolis ATC Centers, which creates safety issues. With the proposal of a 500-foot floor for large Air Force flights, this limitation adds to the difficulty in segregating military and civilian flight. Sharing air-space with low-flying, high-speed military aircraft with limited radar and communication services available presents a huge safety concern.
• Safety for aerial applicators. North Dakota agriculture utilizes aviation for the aerial application of crop protection products throughout the state, including the proposed expansion area. Because Federal Aviation Administration requirements mandate that aerial applicators fly at least 500 feet above any person or structure when transitioning between fields and their airport, these pilots will be at the same altitude as large, high-speed military aircraft in the midst of military training, which could be very dangerous for all parties involved.
• Fire potential: As we know, chaff and flares can occasionally fall to the ground and cause grassfires to start, particularly in the semi-arid regions of southwestern North Dakota, which receives just 14 to 16 inches of precipitation each year, according to the U.S. Geological Survey. This could put people and livestock, as well as sensitive wildlife species, in serious danger. Absent a mitigation plan, landowners and local fire crews will be the ones who have to respond to emergencies and deal with damages.
• Potential medical flight interference: The proposed training area could hinder medical flights into and out of the area. Such flights are critically important in remote, rural communities, which, in many cases, are many miles from life-saving medical services. While we appreciate the U.S. Air Force's commitment to making emergency flights a priority, relocating large military exercises out of the airspace would be difficult to do quickly, and we do not see that as a realistic option.
• Livestock welfare issues. The unusual activity and additional noise that are expected to accompany the proposed expansion could be damaging to livestock. Unnaturally high levels of noise can mask more subtle sounds that they need to hear in order to survive and reproduce. They may also react with a fight-or-flight response to artificial sounds like aircraft noise and thereby use up valuable energy reserves to flee from non-existent predators. According to Dr. Temple Grandin, a world-renowned authority on livestock behavior and animal welfare, cattle and sheep are more sensitive than people to high frequency noises, and unexpected loud or novel noises can be highly stressful to livestock. These conclusions have been scientifically documented. Grandin noted that sheep exposed to exploding firecrackers or noise in a slaughter plant, for instance, had increased thyroid hormone levels and elevated cortisol. Similarly, T. Camp of the U.S. Department of Agriculture's Experimental Station in College Station, Texas, indicated that even a loud clanging bell from an outdoor telephone will raise a calf's heartrate 50 to 70 beats per minute.
In summary, the NDSA is grateful to the men and women who sacrifice to defend our nation and our way of life and recognizes the need for the military to have appropriate training to do so. Our members also understand that that is the intent of the proposal to expand the Power River Training Complex and appreciate what the Air Force is aiming to achieve. However, the proposal as currently written would present considerable safety and well-being concerns for the people and livestock residing in this area on as many as 240 days of the year.
We hope that the Federal Aviation Administration and the U.S. Air Force recognize the significance of the concerns our organization and others have identified with this proposal and are willing to work with all stakeholders to develop a safe, efficient alternative.
Thank you for the consideration of these comments. If you have any questions, please don't hesitate to call our office at (701) 223-2522.
North Dakota Stockmen's Association