Understanding the Veterinary Feed Directive
Ryan Crossingham, Farm & Ranch Guide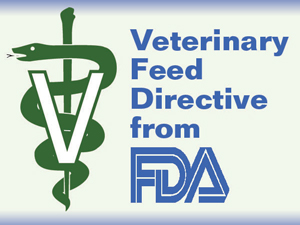 Medications in feed have been used as an effective and convenient method to both prevent and treat certain disease conditions in groups of livestock. However, under the Veterinary Feed Directive (VFD), all use of feed antimicrobial medications has changed and treatments will need to be under the oversight and order of a veterinarian.
Gerald Stokka, North Dakota State University Extension veterinary/livestock stewardship specialist, said it's very important that livestock producers understand exactly what VFD is and its implications.
"In very simple terms, the VFD is just a term used to describe writing a prescription for an antibiotic that goes in the feed," Stokka said. "When veterinarians dispense or have producers use an injectable antibiotic, especially the ones that have come to the marketplace in the last 20 years, they now come with the stipulation that they can only be used by the producer with the prescription written by a veterinarian."
Stokka said that before the VFD, producers were able to go to their local animal feed store or animal health store and pick these medications up over the counter on their own to use at their discretion.
"We've never had veterinary oversight of medicated feeds before and so this is coming down the line at us and will become part of the regulations starting in December of 2016," he said.
Stokka is doing everything he can to help producers understand the VFD in order to avoid confusion between producers and their veterinarians about what's coming.
"Rather than wait until the deadline where there is mass confusion, we're trying to make sure people are aware of it so that they're not surprised," he said.
Stokka knows that despite his best efforts, this transition will still confuse those parties involved.
"It's like anything that comes along when all of a sudden it becomes a regulation," he said. "A producer will go into the elevator and the elevator will tell them they need a prescription for the use of this antibiotic and the producer is going to say what the heck is going on. I know that's going to happen and we're trying to head that off some bit."
Under the VFD, the veterinarian assumes responsibility for making medical judgments regarding health and the need for medical treatment, and the client has agreed to follow the veterinary instructions; the veterinarian has sufficient knowledge of the animals to make a general or preliminary diagnosis; the veterinarian is available for follow-up in the case of animals having adverse reactions or failing to respond to therapy; and in most states veterinarians will need to be licensed in the state in which the animals are located.
"The FDA has oversight over antibiotics that go into animals," said Stokka. "This VFD regulation is part of that oversight and they put this in place so there will be a more judicious use of feed medications."
Stokka said there are currently three ways antibiotics can be used by a veterinarian.
"You can use them to treat certain disease conditions, to control certain bacterial infections, and you can use low doses of antibiotics to improve growth and feed efficiency," he said.
The FDA has requested that manufacturers remove growth and efficiency labels from feed antimicrobial medications.
"All those labels will be gone and you can no longer use antimicrobials for that use," said Stokka.
Livestock owners working with properly licensed practicing veterinarians can acquire the VFD, which allows the purchase and proper use of feed-additive medications.