BRANDING IRON
Blaine Northrop, Chief Brand Inspector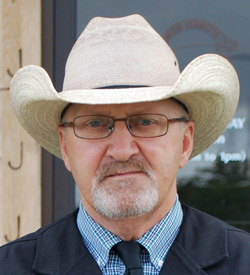 As I write this, I am wishing it would warm up. Hopefully, once you are reading this, we are getting warmer spring-calving weather.
Last month, I saw a few pretty bad things happen. There has been quite a few bad checks written for cattle and share-cow agreements that went south. Be careful when selling your cattle or horses to another person private treaty and especially putting your cows on shares out of state. North Dakota brand laws are pretty stringent, but it is sometimes questionable whether out-of-state county attorneys and sheriff's offices will help. You could be out your cattle and your money if you are not careful.
If you're not sure who you're dealing with, take the time to travel to the area where your cattle are going and get character references from the local sheriff's office. The local gas station or grain elevator are other good places to ask questions. If this person doesn't pay their fuel or grain bill, the gas station or elevator usually won't hesitate to tell you. Talk to their neighbors; they'll tell you whether they fix their fences and keep their cattle in.
Above all, if your cattle are leaving the state, brand your cattle and get a brand inspection and health certificate. This is the law, and it gives you the proof of ownership needed to show the livestock belong to you .
If you haven't already read about the situation with the feedlot in South Dakota, you can pull it up on the internet. You will realize the seriousness of the situation. More than 31,000 head of cattle are missing. Only 4,900 cattle have been accounted for. As many as 24 attorneys are involved. The investor/ victim list is still unknown. So far, the cattle involved are from seven different states. It's going to take months and months to sort this all out.
One thing I do know, there will be no winners in this game. All this is based on trust, whether a contract was written or a verbal agreement was made, bad things can still happen. Be careful who you're dealing with. Like the old saying goes, "If it sounds too good to be true, it probably is."