BRANDING IRON
Blaine Northrop, Chief Brand Inspector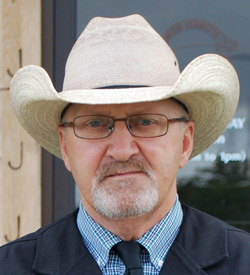 NDSA Deputy Brand Inspector Fred Fredrickson and I were recently in eastern South Dakota doing brand inspections on cattle that were summered in North Dakota. The cattle were transported back to South Dakota to the owner's premises without brand inspection or a health certificate. We met two of our brand inspectors in Aberdeen, S.D., Jeff Bowman and Troy Peterson, who are familiar with the brands in the area where these cow-calf pairs were. The first premises where we inspected had approximately 200 cows, while the other a few miles away had more than 190 calves.
We can use this situation to get an idea of how expensive it can be to transport cattle without brand inspection.
It cost this producer almost $800 for brand inspection fees and additional mileage. Then, as we were leaving, a veterinarian was putting the cows through a chute to individually identify them. That was another added bill that cost this producer because he made the decision to travel across state lines without the proper paperwork.
The producer will be charged for leaving the state without brand inspection, which is a Class A misdemeanor for the first offense. If found guilty, the court will determine what the fine will be. I've seen the state's attorney charge producers on an individual head count and on a total head count. Either way, it's expensive.
Once we finished that inspection, it was off to the next producer's premises.
There were only 19 head, but it still cost this producer almost $300, plus the veterinarian charges. It goes to show, it's so much cheaper and easier to do it right the first time instead of making a costly decision.
I was visiting with a brand inspector recently and we talked about the situation in South Dakota. I told her there are two reasons we go after border-jumpers: 1) it's against the North Dakota Century Code to cross state lines without a brand inspection; and 2) we want to be sure there are no North Dakota cattle in the mixThe number of stray cattle found at the markets this fall has been phenomenal.
Brand inspectors are working hard to protect producers and it's showing in the estray reports coming into the office.
By the time you read this column the holiday season will be over. Here's wishing everyone a safe and happy 2019.