Posted 05/13/2020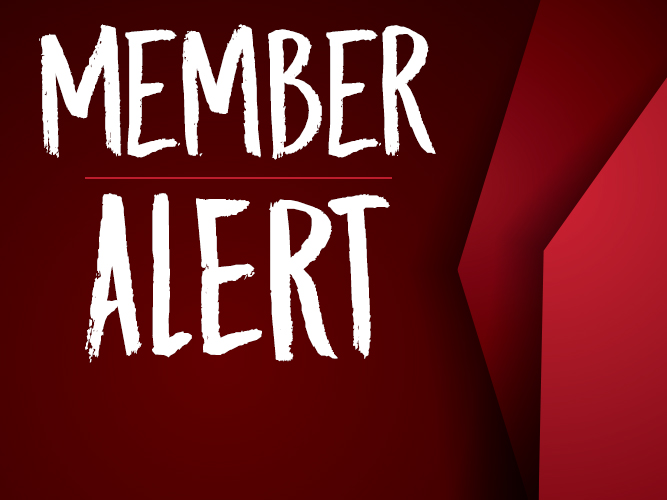 Member Update: May 13, 2020
The North Dakota Stockmen's Association (NDSA) is continuing to work on issues related to the ongoing COVID-19 pandemic and other topics.
Following is an update:
Still awaiting details on CFAP
The Coronavirus Food Assistance Program (CFAP), which was authorized in March, has been submitted to the White House Office of Management and Budget. Upon completion of this review, the U.S. Department of Agriculture will publish the program rules. The relief package is directed at agricultural producers impacted by the pandemic and funded through the Coronavirus Aid, Relief and Economic Security Act. The NDSA is still awaiting official details of how CFAP will be implemented and how payments will be dispersed to producers. These are expected soon.
Webinar to detail what you will need to apply for CFAP
The U.S. Department of Agriculture (USDA) announced yesterday that the Agricultural Marketing Service and Farm Service Agency will be hosting a webinar for farmers, ranchers and other producers interested in applying for direct payments through the Coronavirus Food Assistance Program (CFAP) at noon CT on May 14.
This webinar is an opportunity for producers to learn about the general application process and required documentation prior to the official beginning of sign-up. Producers interested in participating may register in advance for the webinar here.
USDA is hosting this webinar to share information regarding what will be needed to apply for direct payments through CFAP once the application period begins. Producers who are new to participating in FSA programs are especially encouraged to join the webinar.
Please note that the additional details of CFAP have yet to be released and will likely not be available prior to the webinar.
House introduces HEROES Act
Congress launched the next phase of its COVID-19 stimulus response with the House's introduction of the Health and Economic Recovery Omnibus Emergency Solutions (HEROES) Act yesterday. The bill is 1,815 pages long! The full text can be read here.
Some provisions of the bill with livestock industry implications are as follows:
• Emergency assistance for market-ready livestock and poultry losses (excluding packer-owned animals). This is effectively a depopulation support mechanism for all livestock and poultry.
• Support for farm stress programs via state departments of agriculture to expand or sustain stress assistance for individuals engaged in farming, ranching and agriculture-related occupations.
• Direct payments to agricultural producers – appropriating an additional $16.5 billion to the pending Coronavirus Food Assistance Program with an extension for compensation for 85 percent of actual losses through the second quarter of 2020.
• Amendments to the Commodity Credit Corporation to allow for expanded use of funds and additional oversight of any such expenditures by Congress.
• Emergency Soil Health and Income Protection Pilot Program, which is a voluntary program to "allow eligible land to be enrolled through the use of contracts to assist owners and operators of eligible land to conserve and improve the soil, water and wildlife resources of the eligible land."
• Establishment of a statutory dealer trust for livestock.
The House has not yet taken up the bill.
Hoeven, Cramer continue to press for industry investigation
North Dakota Sens. John Hoeven and Kevin Cramer joined with U.S. Senate colleagues in another letter to Attorney General William Barr this week, pressing the Department of Justice to take up an investigation of suspected price manipulation and anti-competitive behavior in the U.S. cattle industry. A copy of the full letter can be viewed here. The NDSA and North Dakota's attorney general, Wayne Stenehjem, have also made this request.
Hoeven recognizes NDSA for relief effort
This afternoon, Sen. John Hoeven recognized the NDSA and the North Dakota Stockmen's Foundation in remarks on the Senate floor for the organizations' charitable Beef Relief Program. Among his remarks and expression of gratitude to the nation's farmers, ranchers and others in the food supply chain, Hoeven highlighted the organizations' $20,000 gift to the Great Plains Food Bank for the purchase of beef from North Dakota ranchers. Listen to his remarks here.
Cost-share for North Dakota meat processors
North Dakota Agriculture Commissioner Doug Goehring has announced a new program to provide cost-share assistance to North Dakota meat processing plants. The North Dakota Meat Processing Plant Cost-Share Program will help state-inspected and custom exempt meat processing plants upgrade their facilities and equipment to meet increased demand due to the COVID-19 pandemic.

The state Emergency Commission met yesterday and unanimously approved $1.3 million for the program.
Some of the eligible improvements could include the purchase of equipment, such as grinders, stuffers or other processing equipment, and rooms or equipment to increase slaughter capacity, such as coolers and freezers. The program will reimburse a portion of expenses dependent on the total amount of eligible applications received and approved through the program. Letters and applications will be mailed to all current North Dakota state-inspected and custom exempt meat processing plants early next week and will be available online at www.nd.gov/ndda.

Additional information is available by contacting Bradley Dean, agricultural development specialist, at (701) 955-0181 or bdean@nd.gov.
"Intersection of the Cattle and Beef Industries" series continues
Cattle producers, consumers and decision-makers can learn more about current issues in the cattle and beef industries through a webinar series that North Dakota State University (NDSU) Extension is co-hosting with Texas A&M Agrilife Extension and West Virginia University. The next webinar in the "Intersection of the Cattle and Beef Industries" series will be held May 14 at 7 p.m. CT.
The remaining webinar schedule is as follows:
• May 14: In-depth perspective of packer profits
• May 19: In-depth perspective of euthanasia of livestock
• May 21: In-depth perspective of local meats: challenges and opportunities
• May 26: In-depth perspective of the beef checkoff
• May 28: In-depth perspective of how cattle are priced: a discussion about price and value discovery and the futures market
• June 2: Virtual packing plant tour
• June 4: In-depth perspective of ground beef, heavy carcasses and imports
• June 9: In-depth perspective of domestic and international supply and demand
• June 11: Historical overview of the beef industry from "The Jungle" to today
• June 16: In-depth perspective of changes in how beef is supplied to grocery stores and restaurants
• June 18: In-depth perspective of the steer and heifer complex
• June 23: In-depth perspective of cow and bull complex
• June 25: In-depth perspective of drop credit, hide and offal
Registration is required to participate in the webinars. You can register here.
Bison Conservation Initiative
Late last week, the Department of the Interior debuted the new Bison Conservation Initiative (BCI). The BCI appears to be a conversion of its previous Bison Working Group that has operated in various spaces for the last several years. Over the next 10 years, the BCI will engage a number of stakeholders with the goal of restoring populations of American Bison, beginning with the development of a bison metapopulation strategy and stewardship plan and expansion of ongoing herd restoration programs.
The department announced two bison translocations will occur in 2020 – one from Colorado to North Dakota and another that would result in a new herd on the Rosebud Sioux Reservation in South Dakota.
The Department of the Interior published a fact sheet on the new BCI, but it has limited information regarding plans related to animal health, how each of these new herds will be managed or how the program may interact with existing tribal programs.
The NDSA will be working to gather more information.
Land access study
The Interim Natural Resources Committee met on Monday to put final touches on a pilot program to evaluate a land access application that could allow landowners to post their land electronically. The pilot application, which will be available for landowners in Ramsey, Richland and Slope Counties to try out, is expected to be live in the next week. A preliminary look at the application can be seen here.
Landowners in those counties are encouraged to participate in the project to evaluate the good, the bad, the ugly and whether or not this is a viable option to consider. Landowners are reminded, however, that the pilot is not legally binding, so, at this time, if they opt to post their land electronically via the application, they still must use the traditional sign methods to post in order to be legally protected against trespass.
Cowboy Hall of Fame honor
The NDSA is proud to have been selected to be a part of the North Dakota Cowboy Hall of Fame's 2020 class of inductees. According to the Hall of Fame, "nominees are individuals and groups noted for their character and uniqueness who have made significant contributions to North Dakota's western heritage and lifestyle through their participation in or development and promotion of the livestock industry, ranching, rodeo, arts and entertainment." The NDSA is the Special Achievement winner.
Other 2020 inductees include the following:
Cowboy Long Rider: Dorvan Solberg (Williston)
Leaders of Ranch and Rodeo: Robert Luger (Fort Yates)
Pre-1940s Ranching: Martin Hovde (Williston)
Modern-Era Ranching: Philip Baker (Mandaree)
Ranches: Black Leg Ranch (McKenzie)
Pre-1970s Rodeo: Carroll Johnston (Watford City)
Modern-Era Rodeo: Rockie Kukla (Rugby) and Harvey Billadeau (Parshall)
Rodeo Arena: James Cook (Sentinel Butte)
Rodeo Livestock: 44 Magnum (Bottineau)
Formal recognition of this year's inductees will commence Friday, June 19, with a dinner celebration at the North Dakota Cowboy Hall of Fame in Medora. The induction award ceremony follows on Saturday, June 20, at the Tjaden Terrace in Medora and is open to the public.
Event and ticket information can be obtained here.
The NDSA congratulates all the inductees and finalists and thanks the North Dakota Cowboy Hall of Fame, which is celebrating its 25th year, for the honor.
Mental health resources
The coronavirus situation and a culmination of other factors have made this a stressful time for many farm and ranch families across North Dakota. Know that you are not alone. If you need someone to talk to, call a friend or a neighbor, our office or 211, a statewide 24-hour crisis intervention, health and human services information and referral line.
Friends & Neighbors Day cancelled
The Area 4 Research Farm and U.S. Department of Agriculture's Agricultural Research Service's Northern Great Plains Research Laboratory will not be hosting the annual July Friends & Neighbors Day at its Mandan center this year. The event will return again in 2021.