Posted 09/27/2019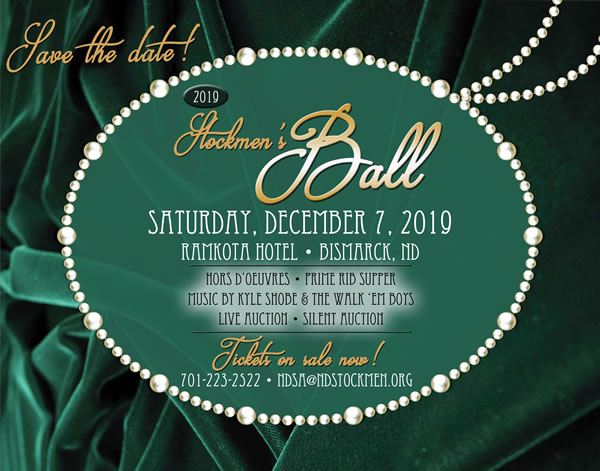 For immediate release: Sept. 27, 2019
For more information, contact:
Warren Zenker, NDSF president: (701) 320-2585 • warrenzenker@daktel.com
Julie Ellingson, NDSA executive vice president: (701) 223-2522 • jellingson@ndstockmen.org
Emily Bendish, NDSA communications director: (701) 223-2522 • ebendish@ndstockmen.org
Stockmen's Ball tickets now available
Through its beef-related scholarship, leadership, research, promotion and building objectives, the North Dakota Stockmen's Foundation (NDSF) works to fortify the state's beef industry and ensure a legacy for future generations of agriculturists. To support those objectives, the NDSF is hosting the 2019 Stockmen's Ball on Saturday, Dec. 7, at the Ramkota Hotel in Bismarck, N.D. The Ball is open to anyone who is interested. The Stockmen's Ball will be a formal, fun-filled night of western elegance, succulent prime rib and live music by Kyle Shobe and the Walk 'Em Boys.
The country band based out of Lewistown, Mont., combines original music with time-tested cover songs, ranging from the early days of country and rock and roll to more current-day genres, appealing to people of all age. The band released its most recent album, "Long Overdue," in July. In addition to playing music, each band member is also an auctioneer. Lead singer Kyle Shobe was the 2010 World Champion Livestock Auctioneer.
The Stockmen's Ball starts at 5 p.m. CT with entertainment and hors d'oeuvres, followed by supper, dancing and live and silent auctions. Auction items — ranging from an African safari to one-of-a-kind western furnishings — would make perfect holiday gifts, as would tickets to the event itself, said NDSF President Warren Zenker of Gackle, N.D.
"Since it began, the Stockmen's Foundation has provided 65 collegiate scholarships and nearly a half-million dollars in disaster relief to producers devastated by floods, blizzards, wildfire and drought; helped develop curriculum to assist families with the generational transfer of their farms and ranches; established a beef research fund; and more," said Zenker. "The Stockmen's Ball is an excellent way for folks to support these types of projects and to have a great time at the same time."
The NDSF's most recent charitable project, the Nebraska in Need Disaster Relief Program, shared $40,000 with southern cattle-ranching neighbors who suffered when historic floods and compromised dams swallowed up millions of acres and claimed a quarter-million cattle there earlier this year.
A limited number of tickets are available. Only advanced tickets will be sold. They are now available, per person or per table, by contacting the NDSF office at (701) 223-2522 or ndsa@ndstockmen.org. A block of rooms is available at the Ramkota Hotel. To make hotel reservations, call (701) 258-7700.
The NDSF is a 501(c)3 charitable organization. Most gifts are considered tax-deductible charitable contributions.