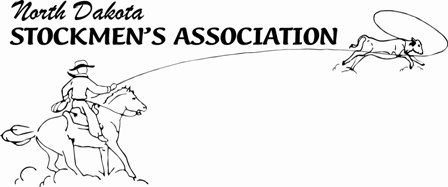 For immediate release:
Nov. 14, 2017
For more information, contact:
Stockmen's Association recognizes employees for service
The North Dakota Stockmen's Association (NDSA) recognized five employees for their longtime service to the state's livestock industry during the NDSA's recent 88th Annual Convention & Trade Show. "We are fortunate to have an outstanding staff working on our behalf day in and day out," said NDSA President Warren Zenker.
Norbert Gangl of St. Anthony, N.D., was recognized for five years of work with the NDSA as a full-time brand inspector. Gangl joined the team after working for many years at Farmers Livestock Exchange. He continues to inspect at Kist Livestock Auction in Mandan, N.D.
Scott Ressler of Mandan, N.D., was recognized for 15 years of service. Ressler is the NDSA's environmental services director, staff liaison to the Membership Committee and ring steward. He got the NDSA's Environmental Services Program off the ground and has continued to provide technical assistance and support to producers wanting to come into environmental compliance. He is a promoter of the organization, having recruited more than 200 members since he joined the NDSA. He and his wife Sheila raise commercial Angus cattle and have two children, Stran and Stray.
Fred Frederikson, the NDSA's east river fieldman, was recognized for 20 years of service. He started his inspection career as a local inspector in 1988 while working in the Dunn County Sheriff's Department. He became a full-time NDSA employee when the east river fieldman position opened up in 1997. His duties range from brand and feedlot inspections to traffic checks and from livestock case investigations to assisting at auction markets. He and his wife Sandy live in Dahlen, N.D., and have three grown sons, Travis, Shane and Jared, who is married to Jennifer and has two children.
Office Manager Sherry Schulz was honored for a quarter-century of industry service. In her duties, Schulz manages the association's membership database and website; maintains supplies; offers support to employees; and, with an inert attention to detail, proofreads, proofreads, proofreads to make the organization look polished and professional. She is a proud beef advocate and enjoys sharing messaging on social media. She and her husband Jeff live in Bismarck, N.D. They have grown children — son Chris, his fiancé Amy, daughter Samie Miller and her husband Andy — and four grandchildren.
Dennis Greiner received a 35-year service award for his work as an NDSA brand inspector. He began his career as a part-time inspector at Sisseton Livestock under the direction of Wilbur Grenz. When Grenz retired in 1996, Greiner assumed full-time positions at both Sisseton Livestock and Britton Livestock. Greiner and his wife Lynette raise feeder lambs and calves on their farm near Wilmot, S.D. They have two children, Kari and Amanda. Kari is married to Dwayne Scott and has one son.
###