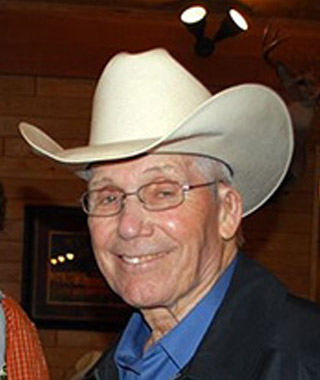 Stan Melroe
Gwinner
The cattle industry will forever remember the leadership and contributions of former North Dakota Stockmen's Association (NDSA) President Stan Melroe of Gwinner, N.D. A commemorative portrait hangs in his honor on the Stockmen's Memorial Wall, thanks to the generosity of family and friends who offered memorials in his name to the North Dakota Stockmen's Foundation.
Melroe, who died April 22, 2014, at the age of 85, had an illustrious resume in the livestock industry. Among his many activities and organizational achievements, he led the NDSA as president from 1994 to 1996 and was named an NDSA Honorary Member and, later, its Top Hand, the organization's most prestigious honor, in 2001.
A long-time NDSA member, Melroe also chaired many beef industry committees over the years, including the NDSA's and the National Cattlemen's Beef Association's Tax & Credit Committees and the NDSA Research Committee. He worked tirelessly to repeal the estate tax on the national level and to reform property taxes on the state level.
Melroe was proud of his NDSA involvement too, telling the Farm & Ranch Guide in 2012, "Probably the greatest honor I ever had was when I was named president of the Stockmen's Association. It was truly a reward to get to know the people that I got to meet in the different parts of the state that I traveled to … Cattle people are great people."
Melroe was born Aug. 18, 1928, to Sigurd and Myrtle (Petterson) Melroe on the family farm homesteaded by his grandfather, Olaf Melroe, in 1882.
He graduated from Gwinner High School and then attended North Dakota State University for three years before returning home to help his father on the family farm at the time of his mother's untimely death.
On Jan. 22, 1956, he married Betty Lou Carlson in Lisbon. The couple was blessed with two sons, Steven and Scott, who continue to farm and ranch on the homestead.
Melroe received many honors in conjunction with his Shorthorn cattle. He was named Builder of the Breed by the American Shorthorn Association in 1976 and the North Dakota Shorthorn Man of the Year by the North Dakota Shorthorn Association in 1979.
Melroe likewise served as president of the North Dakota Livestock Endowment Foundation and the North Dakota Winter Show Board.
He is survived by Betty; sons Steven and Scott; daughters-in-law Barb and Jan; grandchildren Tyler (Darah) Melroe, Bethany (Jeremy) Lehrman, Corey Melroe and Lucas Melroe; great-grandchildren Cash and Emerson Lehrman and Jacey Melroe; brother Sylvan (Caroline) Melroe; sister Lenore Hodenfield; and many nieces and nephews.