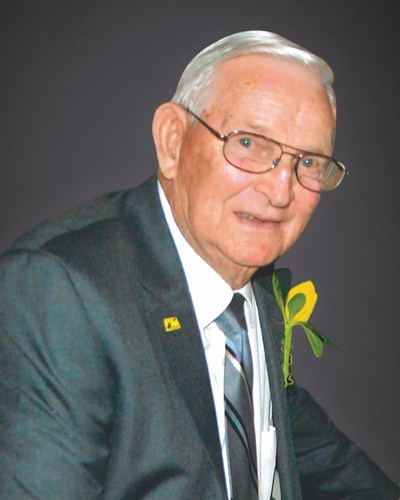 Irvin Huseth
Lisbon
Irvin Huseth, who led the NDSA as president from 1990 to 1992 and was recognized as an honorary member, passed away June 4, 2020, at Sanford Health Hospital in Fargo at the age of 92. His family has honored his memory with a gift to the North Dakota Stockmen's Foundation.
The longtime Lisbon rancher was born March 27, 1928, at his home in Freeman Township, the son of Peter and Mary (Pederson) Huseth. He married Myra Engbloom on May 26, 1951, at United Lutheran Church in McLeod. The couple raised three children – Mark, who also took a turn as the NDSA's president from 2006 to 2008, Marsha and James – on the family's diversified farming and ranching operation in North Dakota's Sandhills Region. The operation was comprised of a Polled-Hereford-based commercial cowherd and later incorporated Salers-Angus genetics. It also included an irrigated cropping system. Huseth was committed to the beef industry.
In addition to his service to the NDSA as an officer, director and Brand Board member, he was a member of the North Dakota Beef Commission, the Sheyenne Valley Grazing Association and many local boards and associations. His community service also extended to the Grace Lutheran Church in rural Wyndmere, the Cemetery Board and the Wyndmere School Board.
Huseth was an amateur pilot in his early years and a delegate to the 1984 Republican National Convention in Flint, Mich.
Reminiscing back in 1999, Huseth said that drought conditions from 1988 to the early 1990s posed one of the biggest industry challenges during his time as an NDSA leader. It forced many ranchers to sell off their herds due to the lack of pasture and feed, he recalled. Another challenge the industry faced during Huseth's NDSA tenure was the anti-beef rhetoric propagated through Jeremy Rifkin's book, "Beyond Beef: The Rise and Fall of the Cattle Culture." Huseth also noted the development of the North American Free Trade Agreement and the Gulf War as significant world events that occureed during his presidential term.
He is survived by his wife of 69 years, Myra; three children, Mark (Eileen) of McLeod, Marsha (Steven) Sorenson of Ottertail, Minn., and James of Walcott; four grandchildren, Travis of McLeod, Tony (Ericka) of McLeod, Miranda (Brandon) Huseth Teachout of Los Angeles, Calif., and Megan (Bill) of Lidgerwood; four great grandchildren, Michael Anderson, Jacob Anderson, Max and Sydney; two siblings, Pearl Taylor of Calif., and Allan (Barb) of Wisc.; and three brothers- and sisters-in-law, George Zentgraf of Ore., Anita of California and Beverly of McLeod.
He was preceded in death by his parents, Peter and Mary, and five siblings, Norman, Bennie, Lois, Herbert and Marvin.