Posted 04/24/2023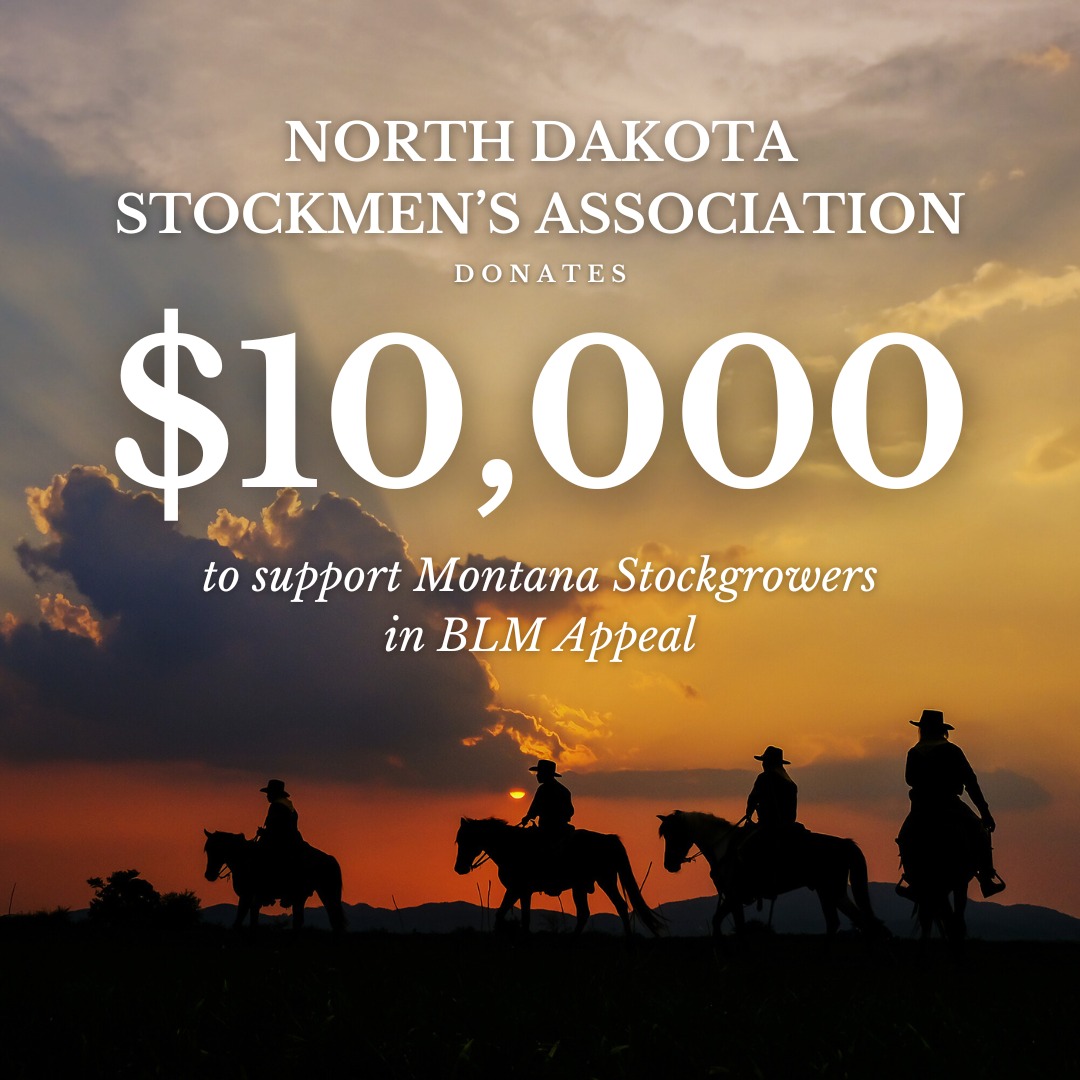 North Dakota Stockmen's Association joins Montana Stockgrowers with support for BLM appeal
The North Dakota Stockmen's Association (NDSA) and th Montana Stockgrowers Association (MSGA) jointly announced Monday the NDSA's donation of $10,000 to support MSGA's current appeal of the Bureau of Land Management's (BLM) decision regarding American Prairie's grazing allotments in Phillips County, Mont.
"Cattle ranchers have a long tradition of helping one another, and the North Dakota Stockmen's Association is glad to be able to help our Montana neighbors in the fight to defend livestock grazing," explained Jason Leiseth, NDSA president and an Arnegard, N.D., cow-calf producer. "This case is significant not only for our Montana neighbors, but for cattlemen and women across the land. What is Montana's battle today could very well be North Dakota's tomorrow, and we are strongest when we stand together."
"While we are fighting this issue here in Montana, the decision on this appeal will have a ripple effect across all public lands in the west and will be precedent setting in relation to allowing federal land allotments to be used for conservation purposes, not livestock grazing," stated John Grande, MSGA president. "We would like to extend our thanks and appreciation to the North Dakota Stockmen's Association for its support of our appeal. These decisions affect all livestock producers."
American Prairie's American Serengeti concept is a threat to the grassland ecosystem, rural communities and the cattle industry.
Donations can be made at www.protectopenspaces.com. The MSGA Advocacy Fund allows for a collective voice for cattle ranchers advocating for change and accountability at the state and federal levels. MSGA's Advocacy Fund supports issues like promoting the benefits of cattle grazing, protecting cattle grazing on public lands, and holding state and federal agencies accountable. This fund is currently being used to support the appeal against BLM and is in partnership with North and South Phillips Grazing Districts and under the counsel of the Budd-Falen Law Offices, LLC.
###