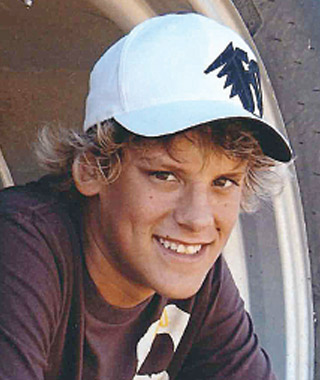 Collin Christman
Hettinger
The memory of 23-year-old Collin Morris Christman of Hettinger is honored at the NDSA headquarters. Family and friends chose to pay tribute to the young farmer and rancher through the North Dakota Stockmen's Foundation with a portrait on its Memorial Wall. Collin passed away Jan. 26, 2017.
He and his younger twin brother Cory were born Feb. 22, 1993, to Dan and Peggy Christman in Hettinger. At 11 months old, Collin was diagnosed with diabetes. He grew up and attended school in Hettinger and Bismarck.
From a young age, Collin was passionate about farming and hunting. During high school, he competed in golf and baseball as a member of the Hettinger Black Devils Teams. His hobbies included riding dirt bike, snowmobiling, spending time at the lake, ranching and driving semi with his golden retriever, Ike, at his side. Ike died in the spring of 2011 and, since then, his dog, Clutch, had been a faithful companion.
Collin graduated from high school in May 2011. He took pride in being deemed "the most likely to be the next Dan Christman" in a classmate's graduation speech. Collin went on to obtain a diesel mechanics degree at North Dakota State College of Science in Wahpeton.
After graduating from college, he moved back to Hettinger to join his family on the farm and ranch, which he enjoyed, along with hunting and fishing in his spare time.
One of his favorite songs was "The Impossible" by Joe Nichols.
Collin was an avid Dodge lover. He was outgoing and loved social gatherings. He was also very caring and open hearted and made a point to help anyone who needed it.
Collin is survived and deeply missed by his father Dan (Lynn Madsen) of Hettinger; mother Peggy Christman (Dave Poppe) of Bismarck; sisters Lacey (Tyler) Kostelecky of Hettinger and Brooke (Garrett) Sanford of Mandan; his twin brother Cory of Hettinger; his nieces and nephew, who were the lights of his eyes, Kylie and Bennett Sanford of Mandan and Kendyl and Shaylee Kostelecky of Hettinger; his paternal grandmother Doris "Dode" Christman of Hettinger; his maternal grandparents, Morris and Evonne Zahn, of Bismarck; and numerous aunts, uncles, cousins and friends.
He was preceded in death by Jacob "Jake" Christman, his paternal grandfather.