Posted 10/13/2022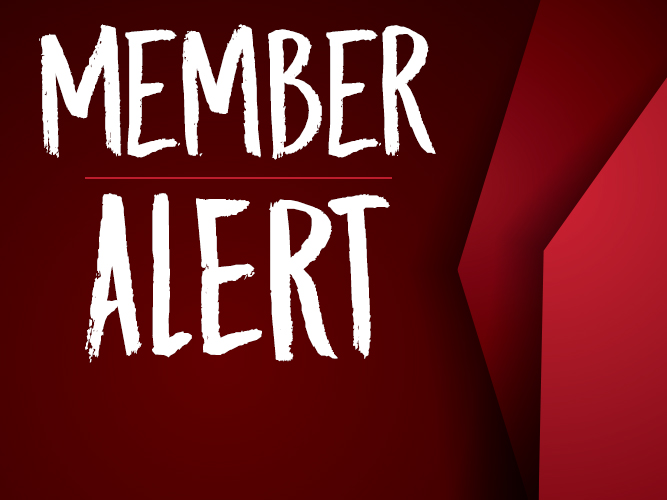 North Dakota Stockmen's Association Member Update:
Oct. 13, 2022
NDSA opposes term limits, Measure 1
Among the policies passed at the recent NDSA Annual Convention & Trade Show in Bismarck was one opposing term limits. In the discussion, members articulated their concerns about term limits – restricting voters' choices, shifting more power to bureaucrats and special interests, reducing policy expertise and shifting the balance of state government. The NDSA is urging a NO vote on Measure 1, which will be considered by the state's voters in the General Election. For more information on the measure, visit "No on Measure 1" on Facebook.
Quarter-million dollars distributed in Hope After Haley Disaster Relief effort
The NDSA and North Dakota Stockmen's Foundation (NDSF) distributed nearly a quarter-million dollars in aid last week to North Dakota cattle ranchers who suffered serious losses in record-breaking, back-to-back storms earlier this year. The NDSA and NDSF launched the Hope After Haley Disaster Relief Program to lend support to ranch families significantly impacted when Mother Nature delivered a multitude of perils, including severe wind and many feet of snow, rain and/or ice in April. Industry impacts ranged from widespread livestock death and illness to damaged buildings and fences.
The organizations kickstarted the disaster relief program's fundraising effort with nearly $50,000 of their own and were joined by generous donors from North and South Dakota, Minnesota and Montana. That grew the fund to almost $250,000. The funds were distributed in their entirety.
Impacted producers were invited to apply for the relief or nominate another producer who could use some help. Forty-five applications, representing 24 counties and every quadrant of the state, were received and approved for assistance. The applicants had, on average, a 14 percent death loss due to the storms.
Palmer amaranth confirmed in three more counties
Palmer amaranth has been confirmed in Kidder, Stark and Williams Counties. The findings consisted of a single plant in Kidder and Williams Counties and two plants in Stark County. The source of these detections is under investigation. The sites are being scouted and monitored. The findings were confirmed as Palmer amaranth by the National Agricultural Genotyping Center. To report a suspect plant, click here or contact your local county weed officer.
Google to roll out sustainability features in search
On Sept. 28, Google announced it will soon be adding new sustainability features in its search, including a fuel-cost calculator and ingredient-level emissions information when users search for recipes. This tool will allow users to compare the average greenhouse gas impact of different ingredients. The information that is displayed will be sourced from the United Nations (UN), Google said, and it will be available worldwide to English language users. This is concerning to the beef industry, since a tool with the potential for a broad global reach could encourage consumers to swap one ingredient for another, despite well-established science to the contrary. The industry has urged Google to take this into account before offering its newest feature.

Since this new Google search tool will utilize UN data, the hope is that it will include the UN data that accurately outlines beef's role in sustainable diets. For example, per the UN, the United States has had the lowest beef greenhouse gas emissions intensity in the world since 1996, while also contributing significantly to global food security – producing 18 percent of the world's beef with just 6 percent of the cattle.

According to the Environmental Protection Agency, methane from beef cattle only represents 2 percent of all greenhouse gas emissions in the United States. Additionally, if all livestock in the country were eliminated and every American followed a vegan diet, greenhouse gas emissions would only be reduced by 2.6 percent, or 0.36 percent globally.
NDSA leaders tapped for national policy posts
Former NDSA Presidents Dan Rorvig of McVille and Jeff Schafer of New Rockford have been appointed to national policy committee leadership positions. Rorvig has been named the chairman of the National Cattlemen's Beef Association's (NCBA) Tax and Credit Committee, while Schafer has been named the vice chairman of NCBA's Ag Policy Committee.
Department of Labor issues final rule on H-2A workers
Last Thursday, the U.S. Department of Labor (DOL) issued new regulations for employing H-2A workers. The new regulations address housing, meals, wages and association liability. These new regulations take effect Nov. 14:
· Meals: Meals must meet certain nutritional standards and be delivered in a timely manner.
· Housing: The regulations provide that rental and/or public accommodations secured to house workers must meet applicable local, state or federal standards addressing certain health or safety concerns (e.g., minimum square footage per occupant, sanitary food preparation and storage areas and laundry and washing facilities) and requires employers to submit written documentation that such housing meets applicable standards and contains enough beds and rooms to accommodate all workers requested.
· Wages: The DOL is updating the way prevailing wages are calculated by allowing more entities, including state agencies and universities, to provide the data.
· Association liability: The DOL is clarifying the definitions of "employer" and "joint employment," the use of these terms in the filing of Applications for Temporary Employment Certification and the responsibilities of joint employers. Employers that file as joint employers are treated as such as a matter of law for purposes of compliance and enforcement. In addition, employers that do not file applications but jointly employ workers under the common law of agency are responsible as joint employers.
To read the complete final rule, click here.
Department of Labor seeks comments on draft guidance regarding H-2A, other topics
The Department of Labor's (DOL) Office of Foreign Labor Certification (OFLC) has opened a public comment period on a draft guidance that includes Frequently Asked Questions (FAQs) about how the H-2A program works and how new regulations will apply. The OFLC drafted the guidance following a directive from the secretary of labor that identified a need to clarify how the DOL assesses an H-2A employer's need for temporary or seasonal agricultural labor. The draft FAQs can be found here.
The agency is requesting comments on the draft FAQs that speak to 1) the clarity of the agency's guidance; 2) whether aspects of the guidance require further explanation or detail; and 3) suggestions for ways to clarify the guidance or complexities of the subject matter.
To offer your input, send comments to ETA.OFLC.H2ARound17@dol.gov by Oct. 26. Reference Docket No. ETA-2022-0007.
Farm Service Agency requests comments on farm labor stabilization pilot
Farm Service Agency has opened a comment period on its pilot program related to farm labor stabilization and protection. The pilot program will have access to up to $65 million from the American Rescue Plan Act and focuses on H-2A hiring from Guatemala, Honduras and El Salvador. The pilot generally targets increasing labor availability, while also evaluating farm labor safeguards.
The agency is requesting feedback from stakeholders on topics ranging from attracting farm workers to participating in the H-2A program and from awareness of worker rights to verification of protections. The agency is specifically looking for answers to the following questions:
1) What barriers and challenges do agricultural employers currently face in accessing the H-2A visa program? What specific barriers and challenges do agricultural employers face in hiring workers from northern Central America?
2) Do agricultural employers have specific feedback on the housing components of the H-2A visa program? What challenges do you face related to housing?
3) What incentives are employers seeking from USDA to improve their ability to hire workers from northern Central American countries under the seasonal H-2A visa program?
4) What enhanced worker protections and labor standards are employers willing to accept in order to receive USDA support to stabilize the workforce? What mechanisms would be helpful in achieving these enhanced protections and standards?
5) What suggestions do you have to help ensure compliance for any additional standards required by recipients of grants as part of this farm labor stabilization and protection pilot grant program?
To share your thoughts, click here. Comments are due Oct. 24.