Posted 11/07/2022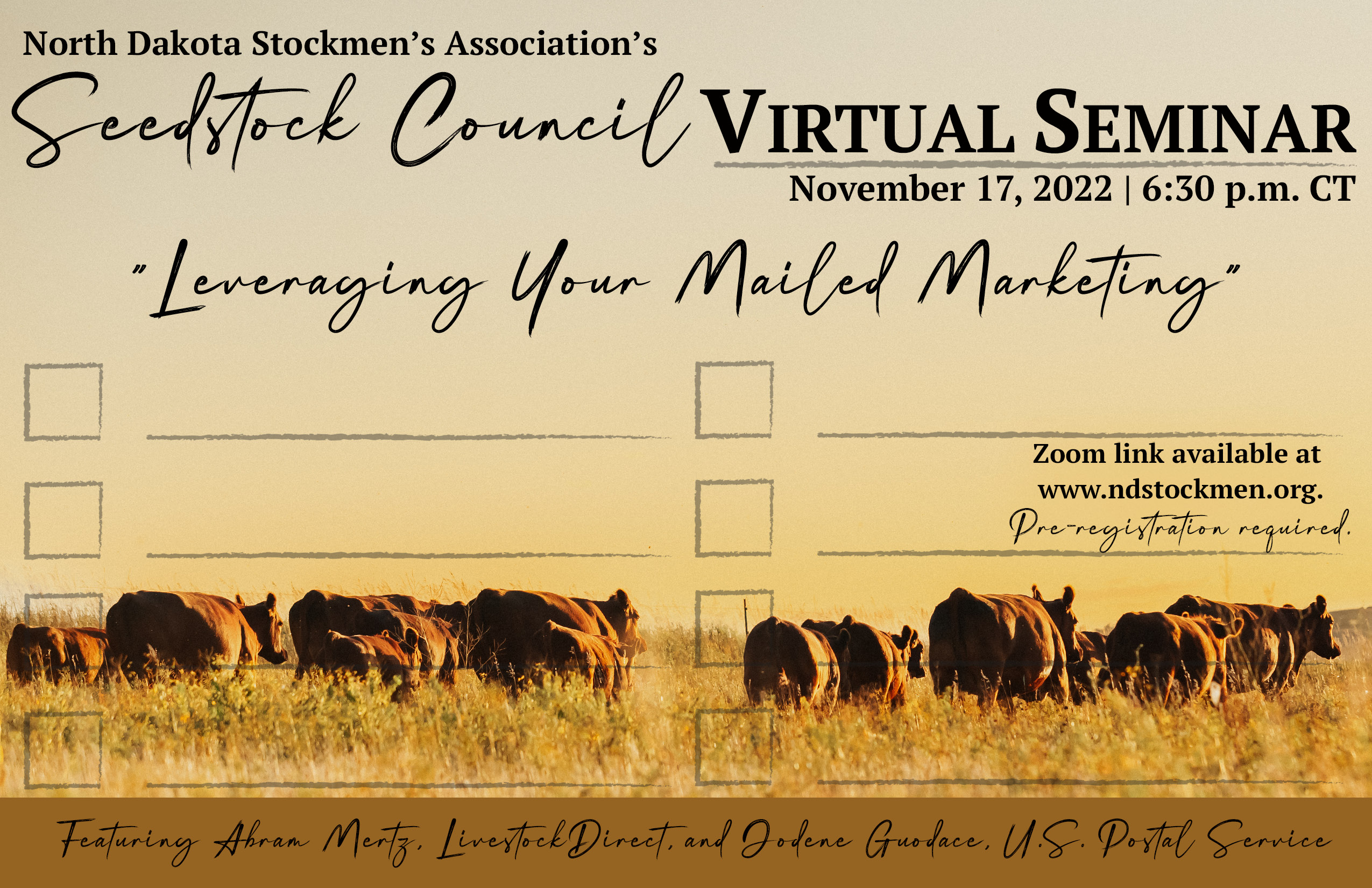 For immediate release:
Nov. 7, 2022
For more information, contact:
Julie Schaff Ellingson, NDSA executive vice president: jellingson@ndstockmen.org • (701) 223-2522
Elizabeth Neshem, NDSA communications director: eneshem@ndstockmen.org • (701) 223-2522
North Dakota Stockmen's Association Seedstock Council
to host marketing webinar
Online event focuses on leveraging mailed marketing
Production sale season is right around the corner and many seedstock producers are preparing for their annual marketing event. Whether it be an in-person, online or private-treaty sale, there is a strong likelihood some promotional materials will be distributed through the mail.
The North Dakota Stockmen's Association (NDSA) Seedstock Council invites producers to a free virtual marketing seminar on Thursday, Nov. 17, at 6:30 p.m. CT that will explore ways to leverage mailed marketing. The session will be led by Abram Mertz, LivestockDirect CEO, and Jodene (Jody) Guodace, U.S. Postal Service headquarters' territory representative.
Mertz will discuss cost-effective mail options for producers and explain the MailScope platform, which tracks catalog deliveries and enables users to call, text or e-mail specific customers through the application.
Guodace will discuss what to know about mailing services from the U.S. Postal Service. Many changes, both rules and costs, have been made over the last few years. How long will a mail piece take in transit? What added services can you get with different mail options? Guodace will answer these questions and cover what seedstock producers need to know as they put together their timeline and or mailing budget.
The webinar will also include other important updates from the NDSA Seedstock Council.
The Zoom link is available at www.ndstockmen.org or by calling (701) 223-2522 or e-mailing eneshem@ndstockmen.org. Pre-registration is required for the event.
The NDSA Seedstock Council works to promote the seedstock cattle industry in North Dakota. It is a council within the NDSA, a 93-year-old beef cattle trade organization representing more than 3,100 members.
###