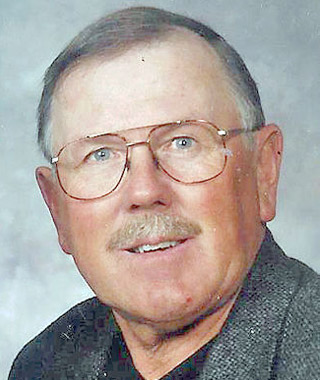 Leland Erickson
Beulah
A picture of long-time NDSA member Leland Erickson of Beulah hangs in the NDSA's Memorial Hall.
Erickson, 73, died peacefully in his sleep Oct. 1, 2015, at his home south of Beulah. He was born Oct. 21, 1941. He attended North Dakota State University (NDSU) before returning to his family's farm to advance his career in agriculture.
Erickson grew up working alongside his parents, Floyd and Evangeline, on the family's farm. After attending NDSU, he returned to the farm, where he began working to expand the operation. In the early 1960s, Erickson purchased a nearby farm and began slowly taking over the family's operation as his father retired.
Erickson worked alongside his son D.J. to farm 2,000 acres of corn, sunflowers and wheat and manage a 275-head Angus-cross cowherd.
"He started out milking cows at the family farm and expanded from there," D.J. said. "The biggest concern to him was hard work. The farm was seven days a week. No matter what was happening, he was out checking on different jobs around the farm."
D.J. said his father paid close attention to the trends of his industry, often attending crop tours and seminars around the state to learn more about new technology.
D.J. said his father provided a good mentor for many people in the area.
Leland took pride in helping young farmers in the area and was quick to provide an example for the area's youth.
"He was always high-strung," D.J. said. "He was a great mentor and good at getting his message across."
Outside of work on the farm, Leland enjoyed attending and participating in the Mercer County Fair, the North Dakota State Fair and livestock shows in the region.
"The fair was his main joy," D.J. said. "It was probably his favorite. He really enjoyed the chance to catch up with his neighbors. He enjoyed traveling to local auction sales to see the surrounding neighbors and hear how things were at their farms."
He was also quick to lend a helping hand for those neighbors that had fallen on hard times or simply needed advice.
"Over the years, he's helped many neighbors through difficult times," D.J. said. "He was always there to help somebody out. If someone had a problem, they could come to him. He did whatever he could for them."
He was involved in the Mercer County Fair Board and served the Beulah Rural Fire Protection District for more than 40 years, among service on several other local boards.
Leland is survived by his wife of 51 years, Judy; three sons, Scott (Debbie) of Zion, Ill.; Todd (Shelly) of Apple Valley, Minn.; and D.J. (Roberta) of Beulah; one daughter, Leann (Jeff) Schafer of New Rockford; 13 grandchildren, Michael (Kaite) Erickson, Lucas Erickson, Peyton Erickson, Tyler (Tara) Caspers, Megan Erickson, Austin Erickson, Chelsey Schafer, Colten Schafer, Corey Schafer, Tanner Erickson, Trever Erickson, Tyler Erickson and Tucker Erickson; two great-grandchildren, Taylor and Teagan Caspers; two brothers, Carroll (Noreen) Erickson and Glen Erickson; and two sisters, Grace (Jay) McLane and Wanda (Chuck) Gustafson.
He was preceded in death by his parents, Floyd and Evangeline of Beulah; two brothers, Cyril and Earl; his parents-in-law, Reuben and Hilda Bauer; a brother-in-law, Larry Navratil; and a sister-in-law, Ruby Krenzel.