Spring Roundups
The Roundups are free and open to members and non-members and will bring a mix of information and fun, issues updates and fellowship.
The NDSA District Directors set dates and locations for their district's spring roundup.
They work hard to bring you this event that includes a free supper!
Make plans to attend the Spring Roundup closest to you.

Wednesday, June 5
District 2: Jamestown Country Club, Jamestown
Thursday, June 6
District 3: Tappen City Hall, Tappen
Friday, June 7
District 1: Kenner's Sale Facility, Leeds
Monday, June 10
District 6: Four Bears Casino, New Town
Tuesday, June 11
District 4: Hebron Community Center, Hebron
Wednesday, June 12
District 5: High Plains Community Center, Killdeer

Nominating committees will be gathering after the meeting to accept candidate nominations

for the NDSA board of directors that will be voted on at the annual convention Sept. 21, 2019,

at the Grand Inn in Minot.

The schedule for each night is as follows:

5:00 p.m. - Local Brand Inspectors meeting

5:30 p.m. - Social

6:30 p.m. - Supper

7:00 p.m. - Association and Legislative Updates by Dan Rorvig, NDSA President

and Julie Ellingson, Executive Vice President.
Map of Districts
Scenes from 2019 Spring Roundups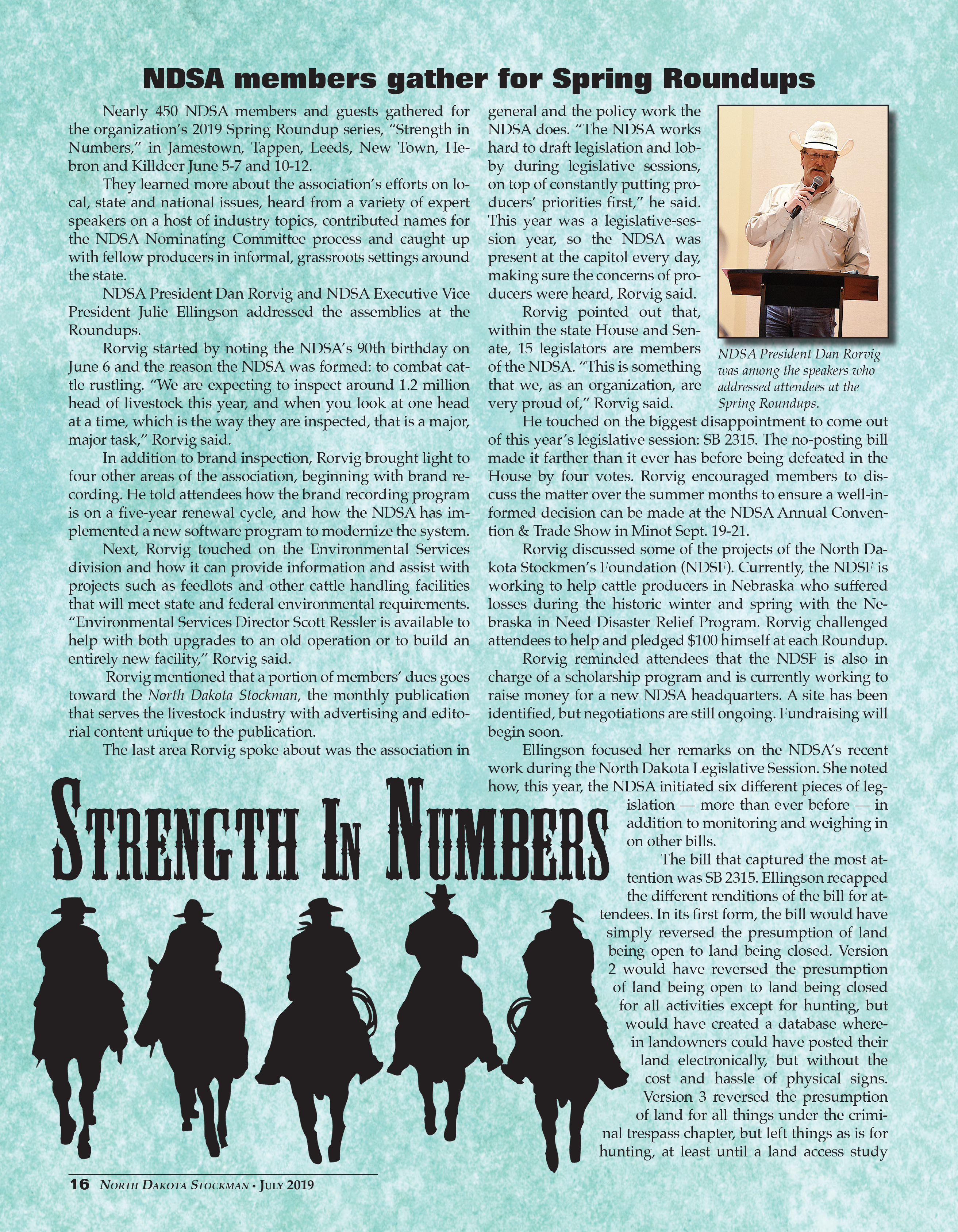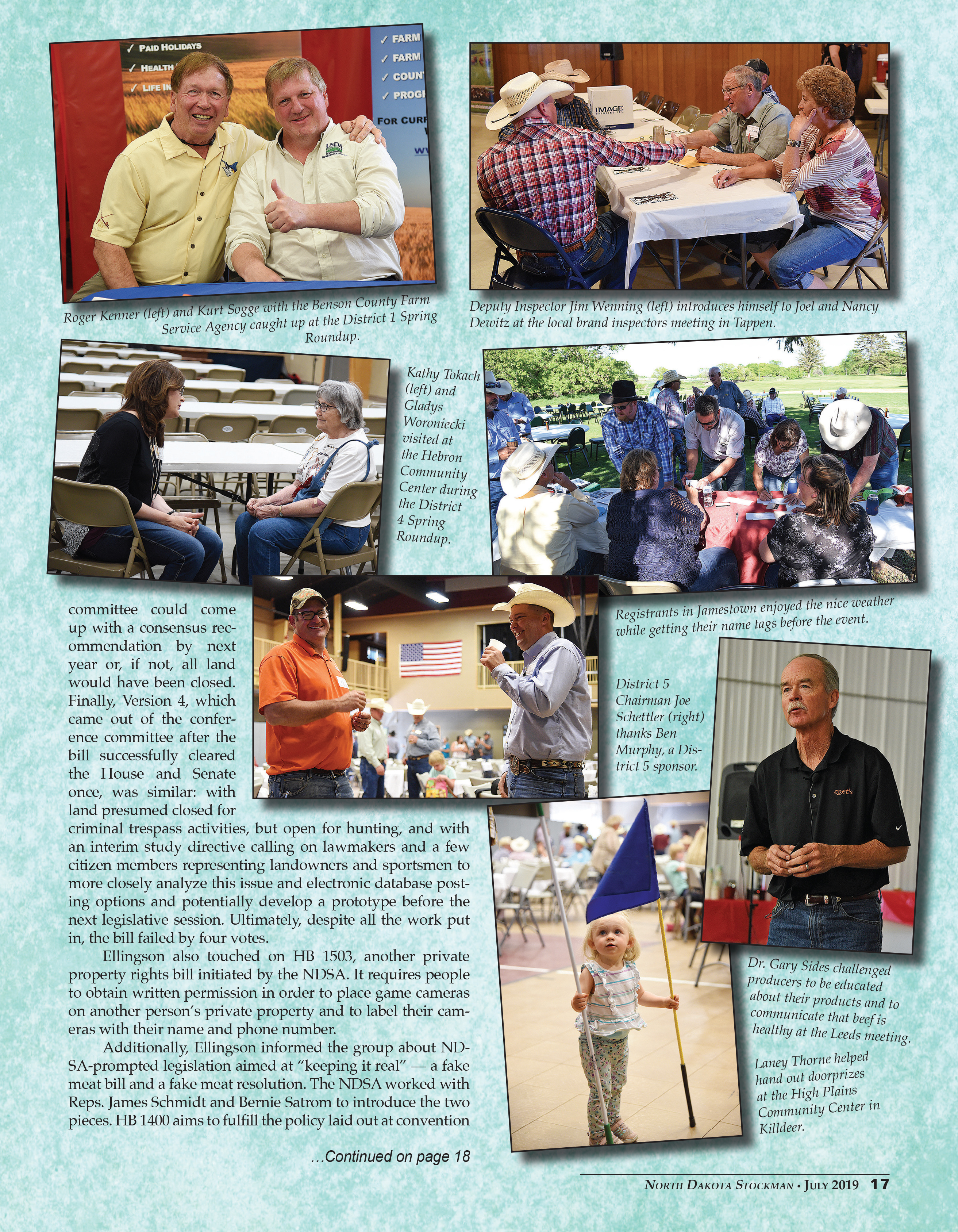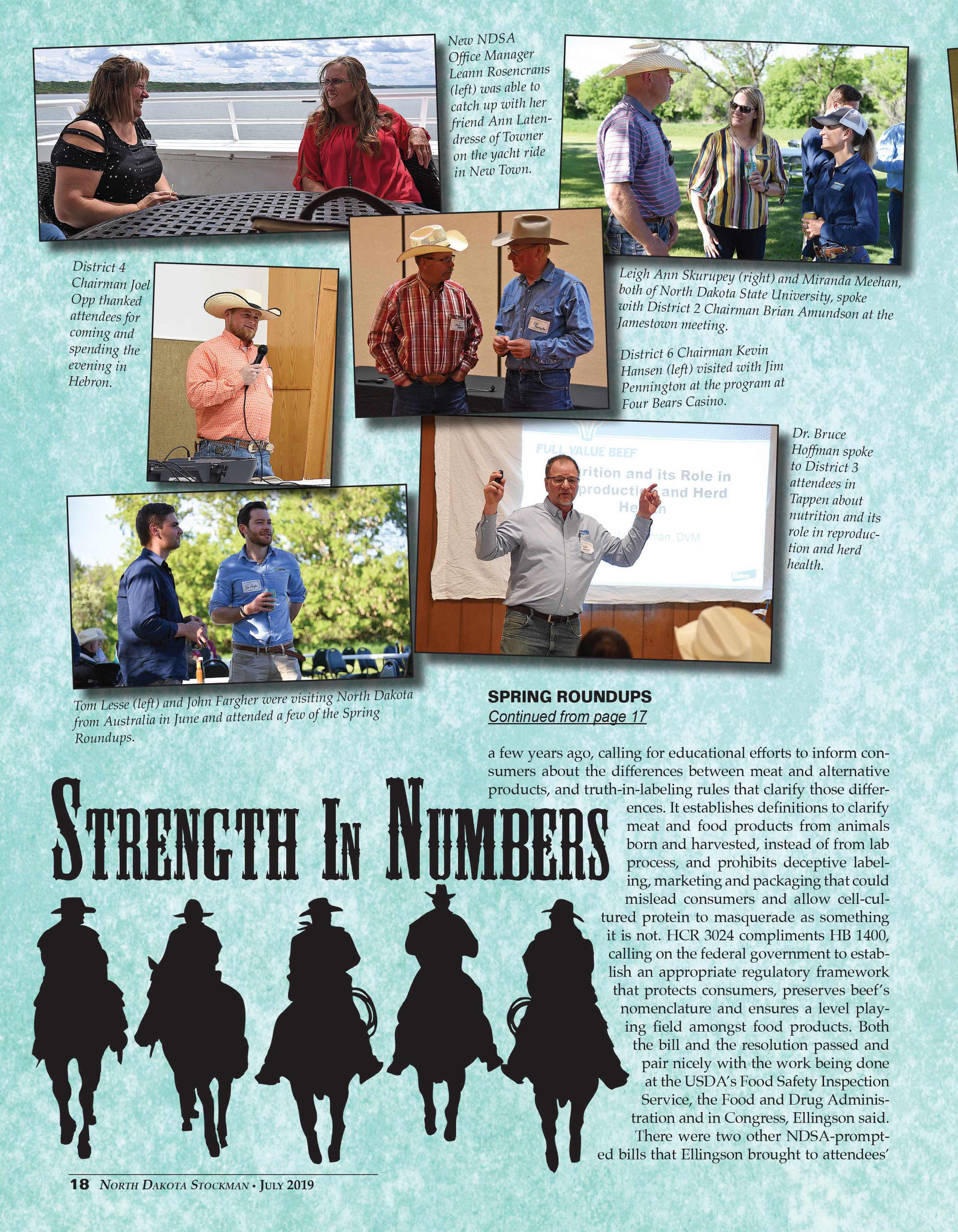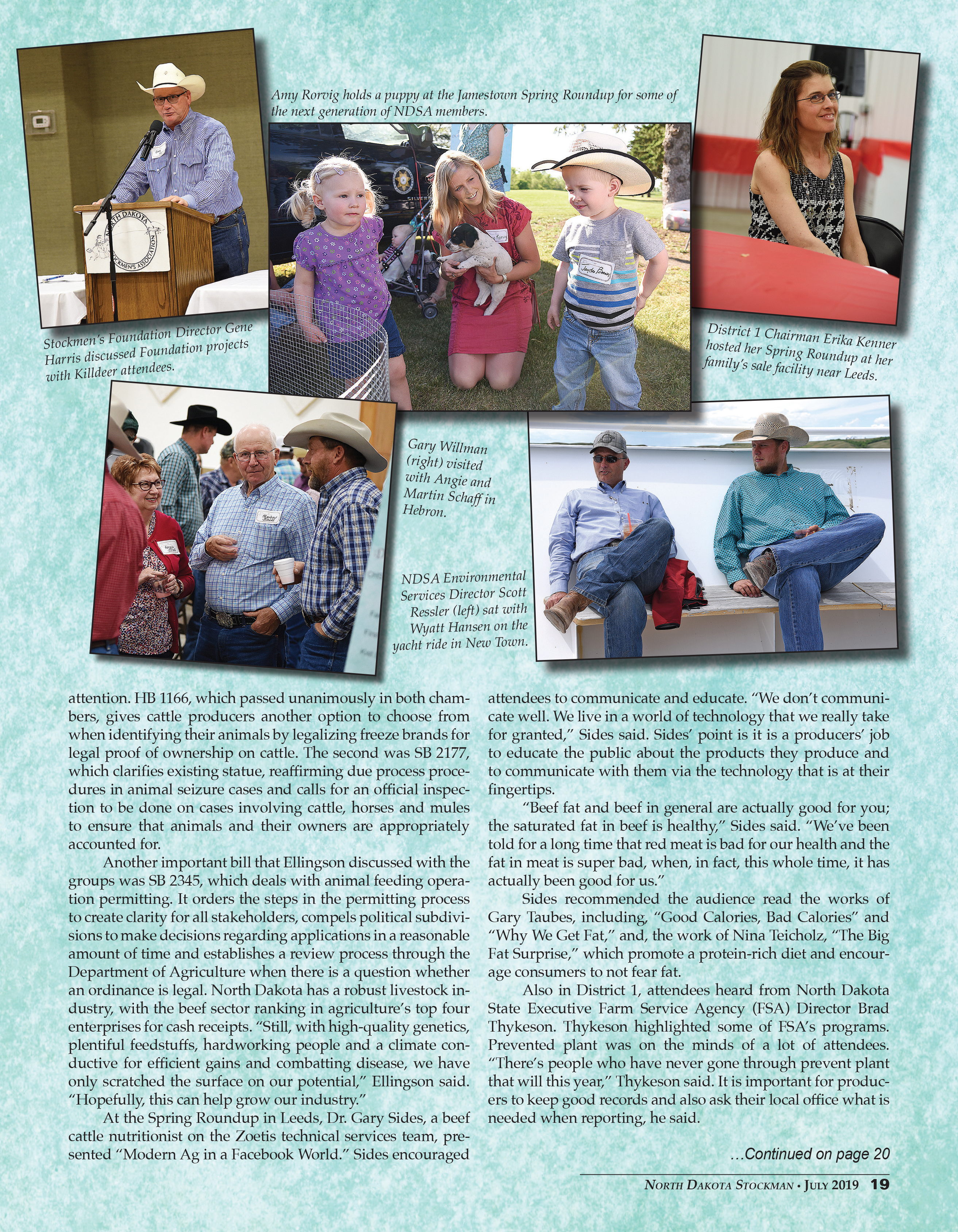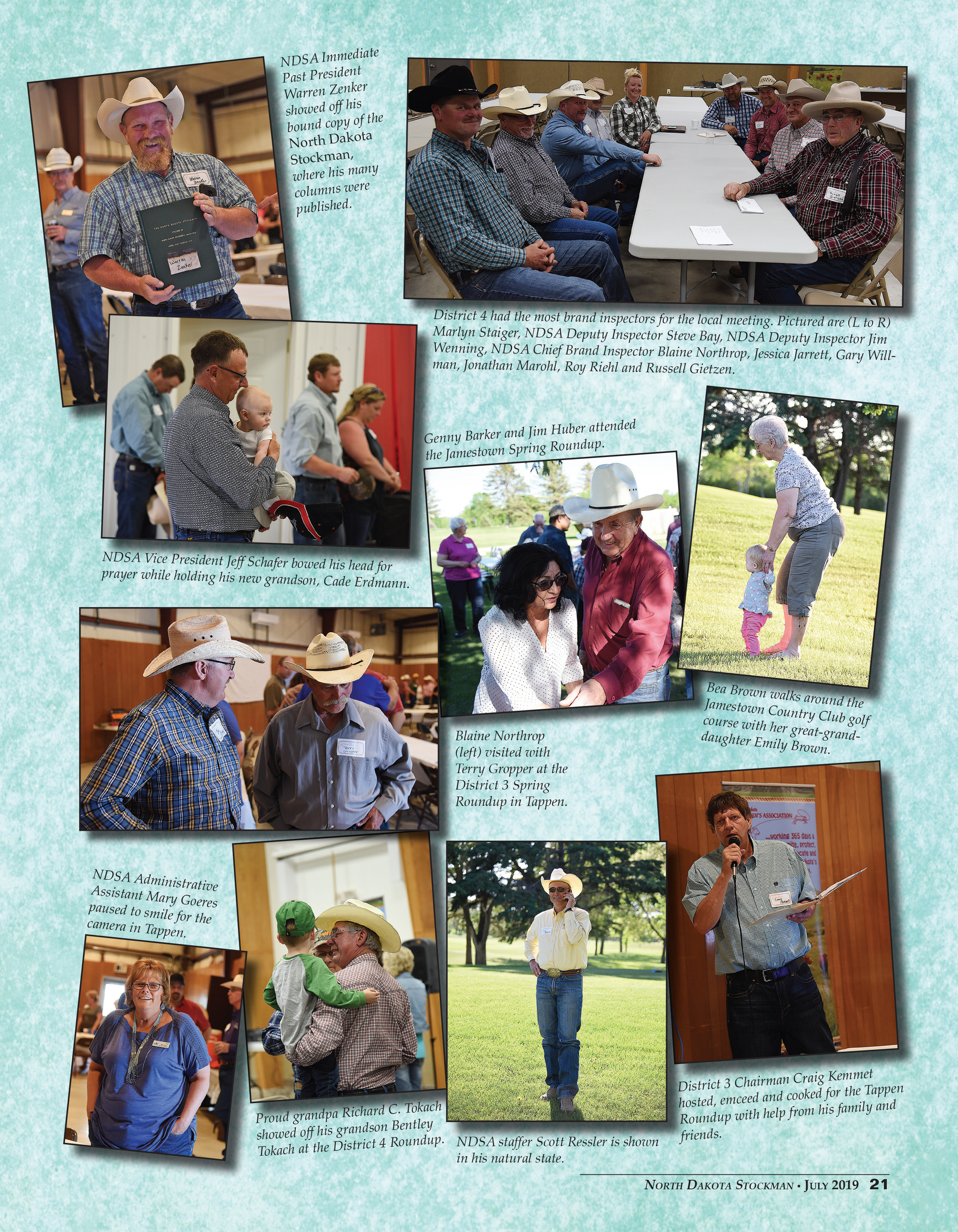 June 4 - District 2

Jamestown Country Club, Jamestown

5:00 * Local Brand Inspectors Meeting

5:30 p.m. * Social
6:30 p.m. * Supper

Nominating Committee Following

Thank you District 2 sponsors!

CHS Nutrition - Edgeley & Dickinson

June 5 - District 3

Tappen City Hall, Tappen

5:00 * Local Brand Inspectors Meeting

5:30 p.m. * Social
6:30 p.m. * Supper

7:30 p.m. * Program

Nominating Committee Following

Thank you District 3 sponsors!

Allied Agronomy & Butler Machinery Company

CHS Nutrition - Edgeley & Dickinson

Dakota Heritage Bank & Dakotaland Feeds

DFC Cooperative & Double J Manufacturing

Elanco Animal Health & Erbele Cattle & Feed

Farmers Co-op Elevator Co.

Farmers & Merchants & Green Iron Equipment

Hubbard Feeds & JS Cattle

Koester Red Angus & Medwest Seed Genetics

Napoleon Livestock & Purina Animal Nutrition

Sayler Implement Wishek $150 & Linton $150

Steele Veterinary Clinic & Stock Growers Bank

Tappen Farm Supply & Tappen Oil Company

Titan Machinery Wishek $500 & Mandan $500

June 7 - District 4

Hebron Community Center, Hebron

5:00 * Local Brand Inspectors Meeting

5:30 p.m. * Social
6:30 p.m. * Supper

7:30 p.m. * Program
Nominating Committee Following

Thank-you District 4 sponsors!

CHS Nutrition - Edgeley & Dickinson

Dakota Community Bank & Trust

Farmers Union Oil of Hebron & Glen Ullin

First International Bank & Trust

Kist Livestock Auction COmpany

New Salem Veterinary Clinic

Opp Well Drilling & Supplies, Inc

Western Cooperative Credit Union

June 8 - District 1

Kenner Simmentals' Sale Facility, Leeds

5:00 * Local Brand Inspectors Meeting

5:30 p.m. * Social
6:30 p.m. * Supper
7:30 p.m. * Program

Nominating Committee Following

Thank-you District 1 sponsors!

Arnold Angus

Arrow Brand Genetics

Bata Brothers Simmentals

Carter's Polled Herefords/TNT Angus

CenDak Cooperative

CHS Nutrition - Edgeley & Dickinson

Cooperstown Veterinary Clinic

Ellingson Simmental

Elliot Livestock

Frey Livestock

Gerrells Sports Center

Gibbens Veterinary Service

Grassy Meadow Ranch

Hegland Cattle Company

High Plains Equipment

Hubbard Feeds

Ironhide Equipment

Jallo Angus Ranch

Johnson Ag Resources LLC

Kenner Simmentals

Lake Region Livestock

Lazy W Angus

Leading Edge Eqipment

Maddock Sales & Rental

McCumber Angus

Purina Animal Nutrition

Ressler Angus Ranch

ROughrider Feeds

Spickler Ranch North

Spickler Ranch South

Topp Herefords

Triple H Simmentals

UCB Insurance Company

United Community Bank

Zoetis

June 11 - District 6

Four Bears Casino & Lodge, New Town

5:00 * Local Brand Inspectors Meeting

5:30 p.m. * Social
7:00 p.m. * Supper

7:30 p.m. * Program
Nominating Committee Following

Thank-you District 6 sponsors!

Farmers Union Oil Co.

Frey Livestock Sales & Services

Garrison Veterinary Service

North Country Mercantile & Equipment

Ranchers Scale Association

June 12 - District 5

High Plains Community Center, Killdeer

5:00 * Local Brand Inspectors Meeting

5:30 p.m. * Social
6:30 p.m. * Supper

7:30 p.m. * Program
Nominating Committee Following

Thank-you District 5 sponsors!

American Bank Center

Benz Oil Company

Boespflug Trailers

CHS Nutrition - Edgeley & Dickinson

First international Bank & Trust

Gooseneck Implement

Hubbard Feeds

JD Fencing & Field Service

Nodak Insurance Company

Purina Animal Nutition

Southwest Grain

Stockmen's Livestock Exchange

Taylor Bang Cattle Sales

West Dakota Veterinary Clinic

Western Choice Cooperative

Zoetis