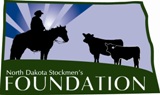 Promotion * Research * Scholarship * Leadership * Building
Memorial Hall
Contributions to the North Dakota Stockmen's Foundation to recognize a living or deceased loved one will be recognized with a photo in the Memorial Hall. Contact the NDSA for details.
Read about the most recent honorees below.
Harry Anderson portrait added to memorial hall

Harry P. Anderson, 84, died on July 12, 2013, at St. Alexius Medical Center in Bismarck from complications due to cancer. As a 58-year member, Anderson's photograph hangs in the NDSA's Memorial Hall.

He served as a former NDSA director and Brand Committee chairman.

Anderson was born in Kenmare on Feb. 26, 1929, the year the NDSA was founded, and graduated from Sherwood High School in 1947.

He farmed with his father until 1951, when he was drafted into the armed services. He served for two years during the Korean Conflict and was stationed in Ft. Lewis, Wa. After the service, Anderson returned to the family farm.

In 1954, he married June Becker and began raising their family of seven children. In 1964, the family moved to the Denbigh-Towner area, where he leased the Eaton Ranch and ran a commercial Angus cow-calf operation.

He began putting together his own ranch in 1969 south of Towner.

Lorie Klein, Anderson's daughter, said he was proud of his home state of North Dakota and his association with the NDSA.

"As kids growing up, we couldn't wait until we were old enough to attend the annual meeting; it was a right of passage in our family," she said.

In addition to the NDSA, Anderson served as a member of several organizations, including the Renville-Bottineau Ag Improvement Association, Renville and McHenry County Farm Bureaus, the Masonic Lodge, the American Legion, the Towner Beef Producers, the Towner Horse Racing Association, the Towner Ranchers Scale Association, the McHenry County 4-H, Shriners and the 50 Years in the Saddle Club, as well as the Republican Party.

He also served as a North Dakota Cowboy Hall of Fame trustee.

He is survived by his children, Deb (Al) Madden of Ringsted, Iowa; Randy (Karla) Anderson of Towner; Craig (Dawn) Anderson of Alto, Texas; Lorie (Frank) Klein of Carrington; Jayme (Karen) Anderson of Poynette, Wis.; Lana (Jim) Southam of Sherwood; and Chad (Pam) Anderson of Peyton, Colo.; his grandchildren, Josh, Nathan, Tara, Shawn, Shane, Chris, Sheri, Brandon, Katie, Tyler, Molly, Madison, Hayley, Seth, Sara and Scott; his great-grandchildren Rylah, Raegan, Aubrey, Myles, Wyatt and Stella; nieces; nephews; other relatives; and many, many friends.

He was preceded in death by a sister, Dorrah Weed; a brother, Martin Anderson; and his parents.

Harold and Regina "Jean" Artz

Artz family recognized with tribute portrait in memorial hall

The family of the late Harold and Regina "Jean" Artz of Antler has recognized the couple with a commemorative portrait in NDSA's memorial hall. The Artzes are the fourth family to be recognized with the honor within the past year.

Harold and Regina dedicated their lives to the livestock industry, instilling a love of agriculture in each of their 15 children, 45 grandchildren and 35 great grandchildren.

Harold was born on August 19, 1913 and was raised near Antler, graduating from Antler High School and later attended North Dakota State University (NDSU) where he was a proud member of Alpha Gamma Rho and the Gold Star Marching Band.

Regina was born Feb. 27, 1921, in Antler and graduated as valedictorian from Antler High School before attending St. Andrew's School of Nursing in Bottineau.

The couple was married on Dec. 27, 1943 and lived south of Antler where they raised their family and farmed and ranched for many years. In 1983 they moved to Westhope and later to Edgewood Vista in Minot.

Throughout his ranching career Harold was active on many boards and associations. He served on the NDSA Advisory Council and as an NDSA director from 1973 to 1980. He was also a member of the Draft Horse Association, Knights of Columbus, a lifetime member of the Elks and an enthusiastic member of the Cross Country Wagon Train Association. Jean was involved in countless activities supporting the education of her children. Her garden provided not only food and enjoyment, but early job training and job security as her children helped plant and weed rows that seemed endless.

In 1977 the couple was honored by the NDSU Harvest Bowl for their contributions to North Dakota's livestock industry.

Carter honored with portrait in NDSA's Memorial Hall

Friends and family of the late Bland Carter, 81, of Williston have honored his memory with a commemorative photo displayed in the NDSA's Memorial Hall. He is the 69th person to be recognized with the tribute. Carter was born a week after the NDSA was launched, June 13, 1929, in York. He was raised on the family farm near Armourdale and later Rocklake.

In 1949, he married Bernice Johnson of Sidney, Mont. The couple lived in Rocklake until moving to Fortuna in 1952, where they raised four daughters, Barbara Bohannon and Brenna (Dana) Panasuk, both of Williston; Betty (David) Petry of Minot; and Beryl Carter of Fargo; and one son, Byron (Shelley) Carter of Fortuna. The Carters farmed and ranched for 50 years before retiring to Williston in 2002. In his retirement, Carter continued to help out on the farm for several years.

Carter loved his family, his farm and his registered Angus cattle, for which he is well known throughout the area. He was a 28-year member of the NDSA, a long-time member of the North Dakota Angus Association and a lifetime member of the American Angus Association.

Carter won the Soil Conservation Achievement Award in 1959 and was named Divide County's Outstanding Young Farmer in 1963.

The North Dakota Angus Association honored Carter as its Man of the Year in 2000.

Christman's life honored in Memorial Hall

The memory of 23-year-old Collin Morris Christman of Hettinger will be honored at the NDSA headquarters. Family and friends chose to pay tribute to the young farmer and rancher through the North Dakota Stockmen's Foundation with a portrait to be isplayed on its Memorial Wall.

Collin passed away Jan. 26, 2017.

He and his younger twin brother Cory were born Feb. 22, 1993, to Dan and Peggy Christman in Hettinger. At 11 months old, Collin was diagnosed with diabetes. He grew up and attended school in Hettinger and Bismarck.


From a young age, Collin was passionate about farming and hunting. During high school, he competed in golf and baseball as a member of the Hettinger Black Devils Teams. His hobbies included riding dirt bike, snowmobiling, spending time at the lake, ranching and driving semi
with his golden retriever, Ike, at his side. Ike died in the spring of 2011 and, since then, his dog, Clutch, had been a faithful companion.

Collin graduated from high school in May 2011. He took pride in being deemed "the most likely to be the next Dan Christman" in a classmate's graduation speech. Collin went on to obtain a diesel mechanics degree at North Dakota State College of Science in Wahpeton.

After graduating from college, he moved back to Hettinger to join his family on the farm and ranch, which he enjoyed, along with hunting and fishing in his spare time.

One of his favorite songs was "The Impossible" by Joe Nichols.

Collin was an avid Dodge lover. He was outgoing and loved social gatherings. He was also very caring and open hearted and made a point to help anyone who needed it.


Collin is survived and deeply missed by his father Dan (Lynn Madsen) of Hettinger; mother Peggy Christman (Dave Poppe) of Bismarck; sisters Lacey (Tyler) Kostelecky of Hettinger and Brooke (Garrett) Sanford of Mandan; his twin brother Cory of Hettinger; his nieces and nephew, who were
the lights of his eyes, Kylie and Bennett Sanford of Mandan and Kendyl and Shaylee Kostelecky of Hettinger; his paternal grandmother Doris "Dode" Christman of Hettinger; his maternal grandparents, Morris and Evonne Zahn, of Bismarck; and numerous aunts, uncles, cousins and
friends.

He was preceded in death by Jacob "Jake" Christman, his paternal grandfather.

Erickson to Memorial Hall

The NDSA is adding the picture of long-time NDSA member Leland Erickson of Beulah to its Memorial Hall.

Erickson joins the list of individuals recognized by their loved ones.

Erickson, 73, died peacefully in his sleep Oct. 1, 2015, at his home south of Beulah. He was born Oct. 21, 1941.

He attended North Dakota State University (NDSU) before returning to his family's farm to advance his career in agriculture.

Erickson grew up working alongside his parents Floyd and Evangeline on the family's farm. After attending NDSU, he returned to the farm where he began working to expand the operation.

In the early 1960s, Erickson purchased a nearby farm and began slowly taking over the family's operation as his father retired.

Erickson worked alongside his son D.J. to farm 2,000 acres of corn, sunflowers and wheat and manage a 275-head Angus-cross cowherd.

"He started out milking cows at the family farm and expanded from there," D.J. said. "The biggest concern to him was hard work. The farm was seven days a week. No matter what was happening, he was out checking on different jobs around the farm."

D.J. said his father paid close attention to the trends of his industry, often attending crop tours and seminars around the state to learn more about new technology.

D.J. said his father provided a good mentor for many people in the area.

Leland took pride in helping young farmers in the area and was quick to provide an example for the area's youth.

"He was always high-strung," D.J. said. "He was a great mentor and good at getting his message across."

Outside of work on the farm, Leland enjoyed attending and participating in the Mercer County Fair, the North Dakota State Fair and livestock shows in the region.

"The fair was his main joy," D.J.

said. "It was probably his favorite. He really enjoyed the chance to catch up with his neighbors. He enjoyed traveling to local auction sales to see the surrounding neighbors and hear how things were at their farms."

He was also quick to lend a helping hand for those neighbors that had fallen on hard times or simply needed advice on bettering production practices.

"Over the years, he's helped many neighbors through difficult times," D.J. said. "He was always there to help somebody out. If someone had a problem, they could come to him. He did whatever he could for them."

He was involved in the Mercer County Fair Board and served the Beulah Rural Fire Protection District for more than 40 years, among service on several other local boards.

Leland is survived by his wife of 51 years, Judy; three sons, Scott (Debbie) of Zion, Ill.; Todd (Shelly) of Apple Valley, Minn.; and D.J. (Roberta) of Beulah; one daughter, Leann (Jeff) Schafer of New Rockford; 13 grandchildren, Michael (Kaite) Erickson, Lucas Erickson, Peyton Erickson, Tyler (Tara) Caspers, Megan Erickson, Austin Erickson, Chelsey Schafer, Colten Schafer, Corey Schafer, Tanner Erickson, Trever Erickson, Tyler Erickson and Tucker Erickson; two great-grandchildren, Taylor and Teagan Caspers; two brothers, Carroll (Noreen) Erickson and Glen Erickson; and two sisters, Grace (Jay) McLane and Wanda (Chuck) Gustafson.

He was preceded in death by his parents, Floyd and Evangeline of Beulah; two brothers, Cyril and Earl; his parents-in-law, Reuben and Hilda Bauer; a brother-in-law, Larry Navratil; and a sister-in-law, Ruby Krenzel.

Friends and family of the late Robert "Bob" Feiring of Powers Lake have saluted his life with a commemorative portrait in the NDSA's Memorial Hall.

Feiring and his wife Bernice raised registered Angus cattle near Powers Lake and instilled a deep love of agriculture in each of their six children. Except for the late Juanita Feiring, every Feiring sibling is a member of the NDSA and each one remains actively involved in the cattle industry: Roberta and Charles Ramberg and Doug and Ceylon Feiring each ranch near Powers Lake, Duane and Janell Feiring of McHenry run a veterinary clinic, Janell and Keith Hauck ranch near Forbes and Donnie and Trisha Feiring ranch near Beach.

Robert was born in 1937, the son of Arnold and Ruth Feiring. He was raised on the family farm and graduated from White Earth school in 1956. After graduation, he worked for the railroad and then joined the Army. He was stationed at Fort Lewis, Wash., and was a member of the Army Reserve for six years.

Bob married Bernice Saby in 1958 and the couple began ranching in 1966. They soon moved to the ranch east of White Earth and began raising Angus cattle. Besides ranching, Feiring drove a school bus,

worked for Air Heaters and was a Mountrail County blade operator for 19 years.

A loving husband, father and grandfather, Feiring enjoyed playing cards and making donuts and molasses cookies with his grandkids. He was a deacon, trustee and member of the First Lutheran Church of White Earth, a leader of the White Earth Wildcats 4-H Club for more than 20 years, a member of the Tioga School Board for 18 years, the White Earth Valley Saddle Club, the NDSA for 31 years, the American Angus Association and the North Dakota Angus Association (NDAA).

In 1993, he was named an Honorary State FFA member, and was also named the NDAA Man of the Year in 2002.

Robert's son, Doug, currently serves as an NDSA District 6 Director and his daughter Janell was the NDSA Communications Director for many years.

Tilman Haadem

Tribute to Haadem added to Memorial Hall

For 82 years, the NDSA has had the good fortune of being stocked with members who have a deep and abiding passion for producing livestock, for being good stewards of the land and for building upon the rich and proud heritage of ranching. Many NDSA members will be remembered for their kind words, their generous spirits and their vision for the future of the cattle industry.

The late Tilman Haadem of Tappen is one of those people, according to NDSA President Jason Schmidt of Medina, a close neighbor to the Haadems.

Haadem's friends and family have decided to honor his memory with a commemorative portrait in the NDSA's Memorial Hall. He is the 10th person to be recognized with the tribute since the North Dakota Stockmen's Foundation (NDSF) was launched in 2008.

"Tilman was one of the kindest people I have ever met," Schmidt said. "He had a smile for everyone and was an exceptional student of cattle. He thoroughly enjoyed going to a bull sale, no matter the breed," Schmidt added.

Haadem was born Oct. 5, 1940, in Bismarck, the son of Roy and Gladys Haadem. He graduated from Tappen High School in 1958, enlisted in the Army a year later and was stationed in Germany until he was honorably discharged in 1962.

After returning home, Tilman married Judith Carol Charlesworth and the couple made their home on the family farm south of Tappen where they raised commercial Angus cattle, small grains and two children, Corrina and Trent. Haadem was a member of St. John's Evangelical Lutheran Church and a 27-year member of the NDSA.

He served on the Kidder County Soil Conservation, Tanner Township and Farm Bureau boards. The Haadem family received the Soil Conservation Achievement Award in 1991 and the North Dakota Angus Association's Commercial Breeder of the Year award in 1995.

Schmidt called Haadem a "model cattleman" who developed an outstanding herd of Angus cattle. "He was a big believer in livestock, cattle and grass and was a supporter of the NDSA and its educational programs," Schmidt added.

Haadem also enjoyed attending his grandchildren's activities and spending time with them.

Through NDSF memorials, friends and families can ensure that the legacy of their loved ones will live on by helping future generations of beef producers through the Foundation's research, scholarship, leadership, building and promotion projects.

Haider honored with memorial hall portrait

John S. Haider, 73, died Dec. 4, 2014, at St. Alexius Medical Center in Bismarck. As a 24-year NDSA Member, he enjoyed attending the NDSA's Annual Convention & Trade Show. He was also an active, lifetime member of the American Quarter Horse Association and the American Angus Association.

Haider was born on July 2, 1941, in Bismarck to Steven and Catherine Haider. He was raised in the Solen area and spent his life ranching as the third generation to continue the ranching tradition on his family's homestead. He often traveled to Montana and Wyoming in search of blue roan horses and Angus cattle.

His wife Judy said he bought his first calf at 18 years old and that there was nothing about ranch life that John did not enjoy.

He is survived by his wife Judy of Solen; step-daughter Shelly Salter of Bismarck; step-sons Scott (Karen) Wetsch of Gillcrest, Colo., and Jason (Kim) Wetsch of Brainard, Neb.; seven grandchildren; sisters Ann (Matt) Hatzenbuhler of Mandan and Kathy Kramer of Battle Creek, Neb.; brothers Leonard (Lenora), Ray (Geraldine) and Bob (Sharon) Haider, all of Mandan; father-in-law Phillip Schaff of Mandan; and several nieces and nephews.

Cody Hansen, Towner

Hansen honored with portrait in memorial hall

The NDSA is adding the picture of Dakota Dawn "Cody" Hansen of Ryder to its Memorial Hall. Hansen will join the list of individuals recognized by loved ones.

Hansen, 49, died unexpectedly Oct. 19, 2015, in Minot. She was born on May 21, 1966, in Rugby to Dale and Beverly Brandt and was raised on her family's ranch east of Granville. She graduated from Granville High School, where she played basketball. She accepted a basketball scholarship from Lake Region Junior College, where she was a member of the 1985 team that played in the National Junior Collegiate Athletic Association championship.

Following graduation, she returned to Granville where she was employed by a regional highway contractor, Minot Livestock Auction and RCC Western Store.

Cody married Kevin Hansen on June 15, 1990, and moved to the family's ranch north of Ryder in Ward County, where the couple raised their family and Simmental cattle.

In addition to her active involvement in the NDSA, Hansen served as a member of several organizations. She was a member of Rose Valley Lutheran Church, the American Simmental Association and the North Dakota Simmental Association, in which she served as a director.

Hansen pursued her passion for mentoring youth in the show ring and on the basketball court. She served as the girls' basketball coach for Berthold High School and North Shore Plaza High School. She also was a member of the Ward County 4-H Council and a leader in the Prairie Tumbleweeds 4-H club. She also participated in the Roughrider Rodeo Association circuit where she was a six-time breakaway roping champion. Alongside her civic involvement, Hansen enjoyed gardening, knitting, baking and spending time with family and friends.

She is survived by her husband Kevin; children Wyatt and Hadlie; mother Beverly Brandt of Surrey; mother- in-law and father-in-law Marcy and Kermit Hansen of Ryder; siblings Terry Brandt of McLaughlin, S.D., Shelby Brandt of Granville; Stacey Wald of Surrey; sister-in-law Susan Brandt of Surrey; in-laws Kary Nygaard of Minot; Loren Hansen of Webster, Minn.; and Lynae Lardy of West Fargo; nieces Tanya, Shannon, Kinley, Jordyn, Britney, Madison, Jaelyn and Taylor; nephews Stetson, Landon, Levi, Tate, Wyatt, Dalton, Jacob, Jarrett, Ty; and great nephew Ames. She was preceded in death by her son Braxton; father Dale Brandt; and grandparents Henry and Cora Brandt and Clyde and Virginia Cargo.

Orlin "Bill" and Lola Hanson

The North Dakota Stockmen's Foundation will award six $500 scholarships this month at the NDSA's 83rd Annual Convention & Trade Show, thanks to the generous support of numerous Foundation supporters, like the Antler Outlaws.

To date in 2012, the Outlaws have generated $1,500 for the Foundation and its leadership, scholarship, building, research and promotion efforts. In addition to the Ranch Rodeo held in July, the Outlaws, along with the Sherwood American Legion and the Sherwood Mason's Lodge, coordinated a fi sh fry earlier in the year in honor of long-time NDSA member Orlin "Bill" and Lola Hanson of Sherwood. NDSA member Mike "Ottis" Matteson of Westhope donated and cooked the fi sh along

with Gary "Frenchy" Ledoux of Antler.

After serving four years in the U.S. Navy, Orlin returned to Renville County's Prosperity Township to begin his ranching career. In 1955, a sweet, young teacher arrived in Sherwood from Rolette and the two started dating. Orlin and Lola (Lynnes) Hanson were married in 1958 and in 1965, moved to the ranch homesteaded by Orlin's family in 1914. Together, the couple raised three children, a daughter, Dorea and two sons, Stan and Shawn.

Orlin and Lola continued to ranch until 2000, when they sold the farm and moved to Sherwood, their current residence.

Over the years, Orlin and Lola have been very active in the American Legion & American Legion Auxiliary, Our Saviors Lutheran Church, The Masonic Lodge, and all school activities in Sherwood. Orlin was also active in politics, serving as a state representative and senator from Renville County and served 10 years as a chairman of the Sixth District Republicans.

Johnson to be honored in Memorial Hall

Wayne L. Johnson's family remembers him as a devoted husband, father, grandfather, brother and uncle, a skilled mechanic and welder, hardworker and selfless giver. Through their memorial gift to the North Dakota Stockmen's Foundation's disaster relief fund, Wayne's memory will be preserved in perpetuity through a tribute photograph in the Stockmen's Memorial Hall.

Wayne, a rancher from Sharon, passed away on May 4 at Altru Hospital in Grand Forks, surrounded by his loving family after a courageous eight-month battle with amyotrophic lateral sclerosis (ALS), often referred to as "Lou Gehrig's Disease." ALS is a progressive neurodegenerative disease that affects nerve cells in the brain and spinal cord.

He was born Aug. 19, 1945, in Northwood to Norris and Clara (Beck) Johnson. He attended country school and then high school at Northwood Public School, graduating in 1963.

After graduation, Wayne farmed on the family farm. He was drafted by the U.S. Army in 1969, serving for two years, one in Aschaffenburg, Germany.

Following the military, Wayne returned home and continued his passion of farming and ranching with his family. The farm was very important to him, and he tended to the dairy cows, stock cows, farming, mechanic work, welding and Vermeer baler sales.

He married Mary Sondreal on Nov. 24, 1972, in Crookston, Minn. They were blessed with two daughters, Rendi and Darci.

Nephew Jeremy Johnson described Wayne as a "jack-of-all-trades," pointing out his special and self-taught knack for welding and fixing equipment and his adamance for good fences. "He would do all the fencing in the spring in conditions ranging from cold, rainy days to blistering hot 100-degree days, often pestered by mosquitoes," Jeremy recalled. "He would often come back to the farm after dark with jeans wet up to his waist and wet feet from fencing creek bottoms. He wouldn't let any weather condition keep him from fencing."

Brother Keith Johnson credits Wayne for "having a hand in raising" his own sons, referencing their special relationship and cooperative work as a source of joy for him.

"When my sons were old enough, Wayne accepted them into our operation and helped them get their start in farming and ranching," Keith explained. "Probably the most unselfish thing he ever did was quit actively farming and ranching to let my son Jeremy farm his share of the land after he graduated from college."

Keith still recalls the conversation about that. "I suggested that Jeremy could possibly work for us for awhile and slowly work his way into the operation, but Wayne said, 'No. He has to be part of this place or he might go elsewhere,'" Keith said. "Not long ago, I asked Wayne if he ever regretted quitting and missing these last good years of farming, but he said, 'No. If you and I would have kept farming together, skimping on soil testing and fertilizer, we probably would've all gone broke!'"

Wayne spent many years serving as a township assessor. He was also on the Beaver Creek Church Cemetery Committee and Northwood Oil Board.

He enjoyed gun auctions and collecting guns, hunting, camping, rodeos, demolition derbies and smoking a characteristic corncob pipe. He also loved spending time with his family, especially his three grandchildren.

Wayne always had a smile on his face, and his positive outlook on life was evident to those he met. He loved visiting with people and made friends wherever he traveled. His big heart, caring nature, non-judgmental attitude and practical ways were respected by his friends and family.

He is survived by his wife of 40 years, Mary; his daughters, Rendi (Shane) Johnson-Ebach, Northwood, and Darci (Joe) Schettler, Killdeer; his grandchildren, Piper Ebach and Taylen and Ali Schettler; his sisters, Verna Stave, Northwood, Rose (Lynn) Teie, Thief River Falls, Minn., and Tammy (Paul) Hofer, Northwood; his brothers, Keith (Becky) Johnson, Sharon, Leslie (Marci) Johnson, Sharon, and Brian (Laurel) Johnson, Hatton; and many nieces and nephews.

He was preceded in death by his parents and a sister-in-law, Patty Johnson.
Fred C. Kist

Kist honored with tribute photo in Memorial Hall

Long-time livestock marketer, the late Fred C. Kist of Mandan was recently recognized with a memorial portrait in the North Dakota Stockmen's Foundation's Memorial Hall located at the NDSA headquarters in Bismarck.

Kist passed away July 26, 2010, at his home in Mandan after a brief but courageous battle with cancer.

He was born on Aug. 25, 1939, to Fred Sr. and Laura (Fallgren) Kist in Mandan and attended Mandan High School and Dickinson State College, where he participated in rodeo, in particular, bull riding. It was there he met Ellen Trotter of Grassy Butte. The couple married on Dec. 27, 1960, in Mandan.

Kist's strong dedication to his career started at age nine when he began working at Kist Livestock. Though this became his life's work, it was also his lifestyle. Even though he was the president, he was involved in all phases of the business. To balance his life's work, he enjoyed going out to the field as a way to relax, enjoy nature and private time.

He had a very generous spirit, always looking out for the disadvantaged and making sure they would get a break. He would find duties they could do at the sale barn or in the field.

To relax, he enjoyed watching old western movies, Andy Griffi th, professional football, professional rodeo and took a special interest in watching his grandson, Jesse, win the State Basketball Championship in 2009. Additionally, he looked forward to fi shing in Flin Flon, Canada and hunting in the fall. In 1956, he won the State High School Bull Riding Championship, and in 1959, he was the National College Bull Riding Champion. His avid interest in rodeo continued throughout his life.

Fred had a strong, positive attitude even with his recent illness and he will be greatly missed by his daughter, Cindy (Darin) Schafer of Mandan, two sons, Jerry (Korinne) Kist of Mandan, and Terry Kist of Bismarck; two grandsons, Jesse and Jake Kist of Mandan; special friend, Lila (Melodie) Wannemacher of Washburn; two sisters, Laura Jean (Harold) Rebenitsch of Detroit Lakes, Minn., and Mary (Mike) Burnette of Spokane, Wash.; and brother, Bill (Mary Sue) Kist of Bismarck .

Fred was preceded in death by his parents; and wife, Ellen, who died in 2003.

"The North Dakota Stockmen's Foundation memorial is not only a tribute to the life of this great man, but also a way to ensure that the industry he loved so dearly will continue to flourish through the objectives of the Foundation," said NDSF Chairman Jason Schmidt of Medina. The NDSF was created in 2008 to offer leadership, scholarship, and research opportunities for the state's beef industry.

Duane Marsh

Marsh to be remembered with a portrait in Memorial Hall

Friends of the late Duane Marsh of South Heart will honor his memory by adding his portrait in the NDSA's Memorial Hall.

"Duane was a very good friend," said neighbor Carmen Rambousek of South Heart. "He really enjoyed the cattle business and was particularly proud of his herd of Red- Angus-cross cows." Marsh was born March 25, 1958, in Dickinson, the son of Richard and Frances (Volesky) Marsh. He grew up on the family farm, graduated from South Heart School in 1976 and continued to farm and ranch throughout his lifetime.

On Sept. 24, 1981, Duane married Doris Dukart at St. Mary's Catholic Church in South Heart. The couple made their home near South Heart and were blessed with five children, Vanna, Amy Larissa, Brielle and Emerson (twins). Duane, Doris and the kids ran a dairy operation until 2009.

Marshes were proud to raise their kids on the farm.

Farming and ranching were Duane's true passions. He also enjoyed fishing, playing pinochle, hunting in the Badlands, weekly calls from his best bud Dean and all the visits from his neighborhood pals. When it came to grandpas, Duane was called one of the best. Tractor rides, feeding the cows, ranger rides and wrestling will never be the same, his family said.

Duane was the glue for his family, an anchor for the neighborhood and "everything" for his wife. Faith and family were his strength.

He was always available to help anyone who needed him and was loved by everyone who had the honor of knowing him.

Duane passed away Friday, May 9, at St. Alexius Medical Center in Bismarck. His message would be to live a simple life and treat everyone like an honest friend.

Duane is survived by his wife, Doris; son Emerson (Tina Binsock) of Dickinson; daughters Vanna (Rob) Gassmann and their children, Isaiah, Lucah, Noah and Ella, of Clarksville, Tenn., Amy (Travis) Anton and their children, Brayden and Jaxon of Dickinson; Larissa (Gerald Sletmoe) of Fargo, and Brielle (Tim Bullinger) of Dickinson; his mother Frances Marsh of Dickinson; brothers, Dean (Bev) Marsh of Horace and Rick (Sheryl) Marsh of Dickinson; sisters Rosie (Jim) Perdaems of South Heart, Mona (Dallas) Carlson of Dickinson, Cindy (Ken Kuylen) of Pick City, and Sandy (Larry) Pavlish of Glendale, Ariz.

Edward "Gordon" McLean

NDSA remembers Past President "Gordon" McLean

Gilby-area cattleman and former NDSA President Edward "Gordon" McLean passed away March 19 at the age of 82. A private service is being planned for a later date.

In addition to holding the NDSA's top office from 1982 to 1984, McLean also earned the organization's most prestigious honor, the Top Hand Award, in 1998.

Born Oct. 24, 1932, McLean ran 115 cow-calf pairs, consisting of Simmental, Gelbvieh, Angus and Red Angus crosses until his retirement.

Over the years, Mc- Lean worked hard to improve his herd through the use of performance testing and preconditioning.

He also employed innovative practices to improve his farming enterprise and worked to enhance the environment. He participated in various corn variety and population studies and worked to reduce soil compaction. He was also among the first farmers to use side dressing and pop-up seed-placed fertilizer, adopt an air-drill tilling system and plant sunflowers, canola, pinto beans and peas in his area.

During his years as an NDSA member, McLean took a leading role. He served on the advisory council, board of directors and research committee and chaired a marketing and grading committee. He also served in each of the NDSA's officer positions and was a registered lobbyist for the organization while he was the president. McLean donated his time to other farm and ranch organizations, too. He was a director of the North Dakota Beef Commission, North Dakota Beef Cattle Improvement Association and North Dakota Cattle Feeder Association. He also held memberships and leadership posts in the Society of Range Management, North Dakota State University's President's Club, North Dakota Hereford Association, Ag Coalition, Red River Edible Bean Association, Northwest Farm Managers, North Dakota Crop Improvement Association, North Dakota Corn Growers Association and Wheat Growers.

His leadership also extended to the national level, where he served two years as a director of the National Cattlemen's Association, chaired or co-chaired the Marketing, Grading and Beef Quality Committee, the National Beef Carcass Quality Task Force and the U.S./Canada Beef Grading Standardization Task Force. He likewise served on the Cattlemen's Beef Board and was a member of its Beef Quality and Safety Committee.

Additionally, McLean shared his expertise with the National Sunflower Growers, National Barley Growers, National Durum Growers and the American Hereford and Polled Hereford Associations.

McLean was honored numerous times for his contributions to agriculture. He received the North Dakota State University Alumni Association Agriculturalist Award, the North Dakota State University Distinguished Service Award, the North Dakota Beef Cattle Improvement Association Commercial Producer Award, the Greater Grand Forks Chamber of Commerce "We Salute You" Award and the Saddle & Sirloin Club's Agriculturist of the Year Award.

McLean and his wife Lyla were married in 1954. Together, they raised four children. Lyla passed away in December 2010.

Lyla McLean

McLean honored with portrait in Memorial Hall

The friends and family of the late Lyla McLean of Gilby have paid tribute to her with a commemorative portrait displayed in the NDSA's Memorial Hall.

Lyla was born on April 25, 1931 in Grafton, the daughter Al and Eva Normand of Oakwood. She attended school in rural Walsh County and Grafton High School, graduated high school from St. James Academy in Grand Forks and received her teaching degree from Mayville State College.

She taught in rural Walsh County and at Gilby before marrying Gordon McLean of Gilby, in 1954 at Oakwood.

Over the years Lyla was involved in numerous organizations, including the Cub Scouts, 4-H and the North Dakota CattleWomen.

Lyla loved her husband Gordon and children, her daughter Laura of Gilby; her son Burton (Tone) and grandchildren Teah, Ian, and Kayla of Vestskogen, Norway; her daughter Elizabeth Misund (Eldar), and granddaughter Eva Emilie, of Oslo, Norway; and her son the late Gregory of Gilby.

In addition to spending time with her family, Lyla enjoyed traveling, quilting and reading.

Memorial Hall tributes help ranching families pay respect to their loved ones while preserving the legacy of North Dakota's beef industry for future generations.

Melroe portrait to be added to

Stockmen's Memorial Wall

The cattle industry will forever remember the leadership and contributions of former North Dakota Stockmen's Association (NDSA) President Stan Melroe of Gwinner, N.D. A commemorative portrait will soon be hung in his honor on the Stockmen's Memorial Wall, thanks to the generosity of family and friends who offered memorials in his name to the North Dakota Stockmen's Foundation.

Melroe, who died April 22 at the age of 85, had an illustrious resume in the livestock industry. Among his many activities and organizational achievements, he led the NDSA as president from 1994 to 1996 and was named an NDSA Honorary Member and, later, its Top Hand, the organization's most prestigious honor, in 2001.

A long-time NDSA member, Melroe also chaired many beef industry committees over the years, including the NDSA's and the National Cattlemen's Beef Association's Tax & Credit Committees and the NDSA Research Committee. He worked tirelessly to repeal the estate tax on the national level and to reform property taxes on the state level.

Melroe was proud of his NDSA involvement too, telling the Farm & Ranch Guide in 2012, "Probably the greatest honor I ever had was when I was named president of the Stockmen's Association. It was truly a reward to get to know the people that I got to meet in the different parts of the state that I traveled to … Cattle people are great people."

Melroe was born Aug. 18, 1928, to Sigurd and Myrtle (Petterson) Melroe on the family farm homesteaded by his grandfather, Olaf Melroe, in 1882.

He graduated from Gwinner High School and then attended North Dakota State University for three years, before returning home to help his father on the family farm at the time of his mother's untimely death.

On Jan. 22, 1956, he married Betty Lou Carlson in Lisbon. The couple was blessed with two sons, Steven and Scott, who continue to farm and ranch on the homestead.

Melroe received many honors in conjunction with his Shorthorn cattle. He was named Builder of the Breed by the American Shorthorn Association in 1976 and the North Dakota Shorthorn Man of the Year by the North Dakota Shorthorn Association in 1979.

Melroe likewise served as president of the North Dakota Livestock Endowment Foundation and the North Dakota Winter Show Board.

He is survived by Betty; sons Steven and Scott; daughters-in-law Barb and Jan; grandchildren Tyler (Darah) Melroe, Bethany (Jeremy) Lehrman, Corey Melroe and Lucas Melroe; great-grandchildren Cash and Emerson Lehrman and Jacey Melroe; brother Sylvan (Caroline) Melroe; sister Lenore Hodenfield; and many nieces and nephews.

Paulson's portrait to be added to Memorial Wall

The NDSA recognized Paul E.

Paulson with its honorary membership award in 1999 and will forever remember the long-time Dunn County rancher, organization member and former Advisory Committee member as his portrait is added to its Memorial Wall. Paulson's family chose to pay tribute to the iconic western North Dakota cattleman through a gift to the North Dakota Stockmen's Foundation at the time of his passing earlier this year. He was 101 years old.

Paulson was born on Halloween 1915, the son of Paul and Emma (Larson) Paulson of Werner. He was baptized and confirmed at the Ridgeway Lutheran Church near Taylor; graduated from Taylor High School in 1934; and attended Capital Business College in Bismarck for one term.

Paulson got his first job out of high school working on the Frank Osterwind Ranch, where he earned about $25 a month. He spent two summers in Yellowstone National Park, where he worked as a bus boy in a restaurant where he was able to serve and shake the hands of President and Mrs.

Franklin D. Roosevelt. He also served in the War Training Service, a branch of the U.S. Air Corps, during World War II for a year and a half.

Paulson married Ruby Nodland on Jan. 23, 1943, in Glendive, Mont.

The couple was blessed with five children — Gary, Dennis, Paulette, Sonja and Nikki.

They farmed and ranched south of Halliday until their retirement in 1978. They ran Angus-Hereford-cross cows and backgrounded their calves over the winter. In 1999, he joked, "I learned how to write my name really well on the many mortgages involved in the ranch!"

Over the years, Paulson shared many memories of his ranching days.

In 1999, he said, "I remember the good years and the bad years, the good prices and the poor prices, the spring storms during calving and how bad it felt every time you lost a calf. I also learned that it doesn't pay to do your work twice — first worrying about it and then doing it!" Paulson also worked a short time as a roustabout in the oil field. He continued to live and work on the ranch until 1991, when he and Ruby moved to Dickinson.

Paulson was always willing to lend a helping hand to his family, friends and neighbors. He will be remembered as a great rancher and conservationist, evidenced by the thousands of trees still growing on his ranch.

Paulson was a member of the Marshall Lutheran Church in Marshall and St. John's Lutheran Church in Dickinson. While in Marshall, he served as chairman of the board, treasurer and trustee, as well as on the Big Flat School Board and as a 4-H leader.

NDSA activities were among his favorite social events. He and Ruby, who was the treasurer of the North Dakota Cowbelles, looked forward to the convention as an annual outing. In 1999, Paulson explained his rationale for joining the NDSA: "Who could resist the oratory of Delbert Moore, the storytelling of Ray Schnell, Sr., and Jim Connolly dancing by and saying, 'This beats pitching hay all to heck'?" Along with the NDSA, Paulson belonged to the Elks, the American Legion and the 50 Years In the Saddle Club.

He enjoyed visiting, in good Norwegian tradition, with anyone around a cup of coffee, which he gave credit for his long life. He was witty with the one-liners and enjoyed writing poetry and stories, watching rodeos, square dancing, playing pinochle and being a Minnesota Twins fan. Paulson discovered the game of golf at the age of 65 and played for many years, outliving all of his partners. Similarly, he loved to water ski on Lake Sakakawea and did that until his mid-sixties.

Paulson is survived by his wife of 74 years, Ruby; one sister, Dorothy (David) Domanski, of Canyon Lake, Calif.; four children, Gary (Lyla) Paulson of Park River, Dennis (Carolyn) Paulson of Rapid City, S.D., Paulette (Paul) Huber of Dickinson and Sonja (Dean) Bergstedt of Washburn; 11 grandchildren, Brian, Kristen, Jon, Beni, Brady and Sady Paulson, Allison Smits, Jesse and Josh Huber, Dena Venneman and Ann Schoenberg; 12 great-grandchildren, Blake, Paige, Cheyden, Londyn and Berkley Paulson, Matthew Rohrich, Isaac and Zeke Schoenberg, Ruby and Lena Venneman and Nora and Charlie Huber.

He was preceded in death by his daughter, Nikki Paulson; great-granddaughter, Zoey Paulson; his parents, Paul and Emma Paulson; and his siblings, Edna Gilbert, Mildred McDonald, Erling Paulson, Clifford Paulson and Ruth Rimmey.

Paulson passed away March 28 at St. Luke's Home in Dickinson, where he resided for four years.

Kim Rath

No rancher left behind

Family remembers Kim Rath with a portrait in NDSA's Memorial Hall

By NDSA member Kary Lindgren of Ashley

Friends and family of the late Kim Rath, 58, of Wishek are honoring his memory with a commemorative portrait in the NDSA's Memorial Hall.

Rath dedicated his life to farming and ranching and instilled a great love of agriculture in each of his children and grandchildren.

Born Nov. 8, 1954, the son of Edward and Erna Rath of Wishek, Rath was raised on the family's small grains and commercial cattle ranch west of Wishek. After graduating from Wishek High School in 1972, Rath became the third generation to occupy the family farm. He married Marilyn Schon on Feb. 16, 2008, at Turtle Lake.

When asked where he was from, Rath unfailingly replied, with a big grin, "Wishek – home of the Badgers and sauerkraut capitol of the world." He was proud to be from Wishek and served on the Wishek School Board and city council. He was a member of St. Luke's Lutheran Church and a great supporter and member of the Wishek FFA Alumni Association. Rath farmed and ranched with Marilyn and his sons, Nathan and Timothy. The Raths won the McIntosh County Soil Conservation award in 2007. Kim took great pride in the family farm and would have been pleased to see it become a North Dakota Centennial Farm. The farm will be formally recognized as a Centennial Farm this summer.

Rath was also a proud, 10-year member of the NDSA. He attended multiple Spring Roundup meetings, feedlot tours, and other events, and was a director candidate before he contracted West Nile virus last summer.

He fought a courageous, six-month battle with the virus. During that battle, his family adopted the mantra, "No Rancher Left Behind," to show him their dedication, love, support and desire to bring him back home. They lovingly surrounded Rath when he passed away on Feb. 8, 2013, from complications of West Nile virus.

Rath had a great sense of humor, was gentle and kind and showed compassion to his family and his livestock. He was very patient and determined when it came to "doctoring" and nursing cattle back to health on the rare occasion that one became ill.

Jayson Rath, Kim's only brother, wrote and read a tribute at Kim's funeral.

An excerpt follows: "...It was evident that one of Kim's main focuses was the family farm. Kim was in general an optimist. Broke out, dried out and hailed out. He survived it all. And while doing that, he was able to raise and educate a fourth generation family of farmers that the previous three could not be any prouder of. He passed away with dreams of achieving the 100 year Centennial Farm status, the new shop, and knowing that his farm was in the most capable hands, which he had educated and mentored during his life on that great soil. It's odd his life would be cut short just at the pinnacle of his farming experience with optimal grain crops and livestock production.

I believe he was comfortable that his legacy would live on." Rath is survived by his wife Marilyn; children Bridgette (Randy) Readel of Hunter; Nathan (Megan) Rath of Wishek; Kary (Carl) Lindgren of Ashley; Timothy (Ashley) Rath of Wishek; stepchildren, Angie Schon of Bismarck; Eric Schon of Mercer; and six grandchildren, Cody Readel, Jessica Readel, Marshall Lindgren, Cheyanne Lindgren, Kaitlyn Rath and Olivia Rath; a special nephew, John Rath; one brother, three sisters and his mother-in-law.

Jack & Vander Reich

NDSA mourns the tragic loss of Jack & Vander Reich

On a wet road in southeastern Minnesota, the NDSA lost two friends last month. On Nov. 6, NDSA Past President Jack Reich of Zap and his wife Mardee were returning home from the Mayo Clinic in Rochester, Minn., with their 10-year-old son Vander, who, on Oct. 22, had been diagnosed with a brain tumor. Vander had undergone surgery for the tumor in late October and, on the evening of Nov. 6, the family was traveling back to North Dakota so that he could recuperate for a few weeks before starting follow-up treatments.

A pickup driven by Scott D.Hodgman, an agri-businessman from the West Concord, Minn., area, collided with the Reiches' SUV head-on, killing Jack, Vander and Hodgman.

Mardee sustained serious injuries and was returned to St. Mary's Hospital in Rochester, where she has since been released.

"Jack was the kind of guy who, if you talked to him one time, you felt like you had been friends for years. He was a cowboy and a gentleman. I respected the way he led this organization as president and I valued his friendship," said NDSA President Jason Zahn of Towner, "and I know many NDSA members did, too." Jack was born on Sept. 15, 1969, in Mandan, to Delvin and Joyce (Boland) Reich. He attended Zap public schools and graduated as salutatorian in 1988.

He competed in high school rodeo as a bareback rider and competed at the National High School National Finals Rodeo numerous times.

He also competed on the rodeo team for Montana State University in Bozeman, Mont., and graduated with a bachelor of science degree in animal science in 1993. Jack was a member of the Professional Rodeo Cowboy's Association for several years, until his passion for ranching and family outweighed the draw of the arena.

Jack married Mardee Williams from Eudora, Kan., on May 3, 1996, in Shawnee, Kan. Jack's friends and neighbors quickly embraced Mardee and the couple went on to have three children, Vander, age 10; Kaydee, age 7; and Will, age 3.

Jack enjoyed working with horses, roping and hunting with Vander, but his true passions in life were his family and the herd of Angus cattle that he built from the ground up. The Reich family owns and operates Reich Angus, which is known for the registered Angus bulls that the family sells at auction on their ranch each February.

Jack was no stranger to the NDSA family, after serving two terms as a director and six years on the NDSA's executive committee, including two years as president. During his tenure on the board, Jack helped facilitate exports of beef cattle to Kazakhstan and welcomed foreign investors to the state who were considering opening up a sizeable beef processing plant here. He was a source of inspiration to ranchers across the state during some of the most devastating winter and spring storms in recent history and led the Stockmen's Foundation through a large-scale relief effort.

"Jack had much of his herd synchronized when one of the wildest blizzards in recent history struck the state in 2010," said NDSA Past President Jason Schmidt. "Even though it was a busy time for his ranch, Jack always made time to visit with reporters and offer a positive message about ranching and the perseverance of North Dakota ranchers." That year, the North Dakota Stockmen's Foundation, which began when Reich took over the reigns as president in 2008, distributed $50,000 in relief funds to ranching operations that were decimated by the tumultuous weather.

"Jack was a leader in the North Dakota beef industry, through the NDSA as well as the North Dakota Angus Association, where he was serving as a director," added NDSA Vice President and fellow Angus breeder Steve Brooks of Bowman. "He and Mardee had built their Angus herd up to 300 head from scratch and many of us were encouraging him to run for the American Angus Association board." "As much as he loved his Angus cows and was proud of being a part of the beef industry, he was equally proud of his family," added NDSA Past President Jason Schmidt of Medina. "Jack enjoyed sharing stories about his family and was proud that they all had an interest in livestock, rodeo and the outdoors from a young age." Jack is accompanied in death by his oldest son, Vander, and was preceded in death by his mother, Joyce. He is survived by his wife Mardee and their children, Kaydee and Will, his father Delvin, all of Zap; his sister Stephanie Keltner and her husband Larry of Terry, Mont.; and his brother Joe Reich of Zap; along with several nieces and nephews and extended family and scores of friends in the beef, rodeo and Zap communities.

Vander Reich

NDSA family fondly remembers Vander

Vander Reich, age 10, often tagged along with his dad, Jack, to NDSA functions. He was an extremely active young man, who would throw himself completely into any interest that captured his imagination. Hunting was especially important to Vander. He would often walk into a sporting goods store and ask to see specific firearms by model number and with specific options.

This occasionally left the salesperson momentarily bewildered, but they would soon find themselves in a detailed conversation with young Vander about the options available on the guns he found interesting.

The same situation also played out in implement dealerships, saddle shops and at NDSA functions, where Vander likely holds the record for selling the most North Dakota Stockmen's Foundation Rifle In addition to hunting, fishing and ranching, Vander was active in the Mighty Thunder Wrestling Club, Mercer County 4-H, youth rodeo as a steer rider, the Zap Gun Club and trap shooting team.

Terry Robinson

Robinson remembered in Memorial Hall

Family, friends and colleagues of Terry Robinson have ensured the memory of this industry icon will be preserved in perpetuity through their memorial gifts to the North Dakota Stockmen's Foundation in his honor. Robinson's tribute photograph was recently added in the Stockmen's Memorial Hall.

Robinson, from Bismarck, passed away due to an accidental death at his home north of Bismarck on May 17, 2013.

Terry was born to Harold Warren Robinson and Evelyn Ella (Brown) Robinson on Aug. 8, 1948, in Eau Claire, Wis. He graduated from Mandan High School in 1966. In 1970, he graduated from North Dakota State University with a degree in psychology.

He married his high school sweetheart, Joyce, on Aug. 23, 1969. Together, they were blessed with two children, Cade and Kree. Over the years, the couple became grandparents to eight grandchildren.

Robinson served in the United States military and the North Dakota Army National Guard for over 33 years. He enlisted in the Navy in 1970 and later transferred to the Army Reserve. He was commissioned as an officer in 1973. In 1979, he transferred to the North Dakota Army National Guard, where he served until Aug. 31, 2003, retiring at the rank of colonel. He attended the United States Army War College in 1995-96. His senior commands were commander, Engineer Brigade, 34th Infantry Division, Bismarck, and commander 164th Regimental Training Institute, Devils Lake. His highest federal award is the U.S. Army Legion of Merit. He also received from the U.S. Army Engineer Regiment the Silver Order of the de Fleury Medal. In 2009 and 2011, he was appointed the rank of brigadier general by the governor of North Dakota to act as a "State Flood Recovery Coordinator." His military career was one of the highlights of his life.

In the fall of 1970, he went to work for the ND REC Magazine as advertising manager. In 1981, he acquired part ownership of the Farm and Ranch Guide. Robinson was instrumental in creating a much loved rural paper that had a huge focus on the livestock industry. He served as livestock field directory for the Farm and Ranch Guide and for the past several years, was also the director of livestock services for Lee AgriMedia, a staple of agriculture publications in the Upper Midwest. Always a friendly, smiling face that could be found at many sales, Robinson had a special relationship with cattle producers from North Dakota and the surrounding states. He felt close to each and every one of his accounts.

Robinson was a longtime NDSA member and supporter. He helped organize the inaugural All Breeds Cattle Tours and emceed many tours over the years. He was also a many-time convention sponsor and celebrated the future of the beef industry at the first-ever Stockmen's Foundation Ball.

Robinson's many hobbies included hunting, fishing and maintaining the rural yard he created. The annual Fall Grouse Fest with friends generated wonderful memories. His love of sailing and flying was a huge part of his enjoyment of life. His expertise in so many areas made him the person for family and friends to go to if they needed help. Many hearts were touched by his spirit, generosity and his love of God, family and country.

Robinson is survived by his wife, Joyce; his daugher, Kree R. (Troy) Nelson, Bismarck; his son, Cade M. (April), Bismarck; his sister, Patty Robinson, Bismarck; and his grandchildren, Grace, Lily, Hazel and Nathan Robinson and Madalynn, Emma, Olivia and Salvador Nelson. He is preceded in death by his parents.

Roy Small

Small joins honorees in Memorial Hall

Friends and family of the late Roy Small of Bismarck have paid tribute to his life with a commemorative portrait displayed in NDSA's Memorial Hall.

Roy was born Dec. 3, 1962, in Bismarck, the son of Walter and Loraine Small. He was raised south of Bismarck and was proud to have attended St. Mary's School for the first 12 years of his education. Small also attended Bismarck Junior College and earned a degree in farm and ranch management.

Roymarried Renee Kraft on Sept. 30, `988, in Bismarck. The couple made their home south of bismarck, where they raised three children son CodyLee and daughters Kari Rose and Kori Loraine.

Throughout his lifetime, Small attend many NDSA events and functions. Many NDSA members know him through Hubbard Feeds, where he worked as a sales representative for 17 years.

In addition to working for Hubbard, Small operated a catering business. He enjoyed entertaining and serving beef. He catered several Stockmen's events, including a Spring Roundup in Carson in 2009.

Small passed away in 2010 in a motor vehicle accident.

Kyle "Bud" Sperry, Jr.

Sperry remembered

Former NDSA local brand inspector, the late Kyle "Bud" Sperry, Jr., of Trotters, will soon join a select group of cattle producers fondly remembered in the NDSA's Memorial Hall, located in the lobby of the NDSA headquarters in Bismarck.

Sperry's friends and neighbors collaborated to honor the long-time rancher, horseman and brand inspector with one of the Foundation's most solemn tributes, a commemorative photo in the hall.

"Bud touched our lives with his fun-loving, teasing nature and honest cowboy ways," said family friend and goddaughter Tracey Koester of Steele. "My husband Steve and our family felt it was important to honor his memory and his contribution to our industry in this way." Sperry, age 68, was born on July 3, 1941, in Beach, to parents Kyle and Lillian (Russell) Sperry. He was raised on the Sperry ranch at Trotters. Following high school in Beach, he worked for various local ranches including the Vernon Goldsberry Ranch near Squaw Gap where he met and, after a 100-day courtship, married Marcia Bonine of Hysham, Mont. The couple made their home on the ranch near Trotters where they raised cows, horses and two boys, Russell and Robert.

Sperry loved his family and his Lord, and he loved life on the ranch – working the chute, feeding the horses, fencing, haying or simply sharing a bowl of ice cream with his grandkids. His best days were spent on horseback, helping his friends and neighbors at spring brandings or fall roundups.

For 30-plus years, Sperry worked for the NDSA as a local brand inspector.

In 2006, he was recognized by the American Quarter Horse Association for registering horses for 30 years.

Sperry died on March 18, 2010, at his home in Trotters. He is survived by his wife of 38 years, Marcia; and two sons, Russell and Stephanie Sperry of Rising Star, Texas, and their daughters Reese and Rylan; and Robert and Tamra Sperry of Trotters and their son Kolby Kyle.

"We will all remember Bud's easiness and comfort with horses," Koester said. "We'll remember the way he proudly showed off his colts each summer and the way he talked about the young prospects they were training. We'll remember how proud he was to work for the NDSA and how he always had time to have fun and enjoy life." Sperry is the 96th person to be recognized in the hall with a photo.

Albert T. Thompson

Family pays tribute to ancestors through NDSA Foundation

Albert Theodore (A.T.) Thompson was born at Star Prairie, Wisconsin, on July 5, 1875. He grew up on a small farm and received his education near Star Prairie. As a young man, he worked in the logging camps in northern Wisconsin and on the docks at Lake Superior. In 1903, A.T. married Julia Ekern, and together with his sister, Gena, they managed a variety store in Cameron, Wisconsin. A son, Leslie, was born in 1904.

The Thompson family came west in 1906 and homesteaded in Billings County, near present day Fairfield. A.T. and Julia's homestead was alongside a main north-south route, which today is U.S. Highway 85. Located midway between the Northern Pacific Railroad at Belfield and the Little Missouri River, the homestead was a busy overnight resting and refueling stop for travelers and their teams. Sons Vernon, Allan W., and Ellis joined the family by 1913.

Besides the location and four sons, a Percheron sire named Mitchell was instrumental to the growth and success of the Thompson family's operation. Draft horses raised and broke by the Thompsons were sold locally and many were shipped to a broker in upstate New York. Prior to the 1930s depression era, besides the draft horses, the Thompsons raised small grains on about 500 acres and ran several hundred head of mostly Hereford cattle on the ranch and on shares with other residents in the area.

When the 1930s dust had settled, A.T. Thompson's ranch became A.T. Thompson and Son, with Allan W. Thompson. The draft horse breeding diminished and finally ended in the later 1940s. Much of the farmland was returned to grass for hay, and the cattle herd stabilized at about 350 cows and yearlings. A.T. and Julia fully retired and moved to Dickinson in 1952 where A.T. became a regular fixture, at the local livestock auction markets weekly sales for many more years.

Allan W. Thompson

Allan Webster (A.W.) Thompson, the third of four boys, was born on August 24, 1909, on the Billings County homestead of Albert (A.T.) and Julia Thompson. Allan and his brothers were actively involved in the farming and ranching operation at an early age. Upon completion of elementary school, Allan claimed to have earned his PhD (post hole digger) and elected to continue working on the ranch while his brothers pursued additional education and other endeavors.

Allan married Myrtle Nielson of Sheyenne in 1938. They took up residence at "the camp," a renovated homestead shack in the Badlands where the cattle were wintered. They spent the next eight years living at the camp while managing the day-to-day ranch operations, eventually entering into the partnership, A.T. Thompson and Son. In 1947, Allan and Myrtle moved to the original Thompson homestead near Fairfield on what is now U.S. Highway 85, along with their two children, Kay and Allan Theodore.

Allan and Myrtle managed the ranch until 1970 when the tradition was passed on to son Allan T. and wife, Joyce. They remained actively involved in the ranch work and country life for another fourteen years until moving to Belfield in 1984.

The Thompson Ranch became a Centennial Farm in 2006. Allan was an honored guest at a family gathering at the original homestead hosted by granddaughter and fourth-generation rancher, Julie, and her husband, Cody Reis, and sons, Dillon and Emmet.

Allan was a 62-year member of the NDSA, and Myrtle was a charter member of the North Dakota Cowbelles. Allan was also a member of the 50 Years in the Saddle Club and a Cowboy Hall of Fame charter member, as was his father.

He took pride in his family and ranching. He was happy with an honest horse, good cattle, fine neighbors, a game of pool, and a dose of some good fiddle music.

He was a man of few words, but the smile on his face was always proof of what he was thinking.

NDSA Past President Dick (Richard M.) Tokach of Mandan, formerly of St. Anthony, passed away on Nov. 9.

"Dick was a quiet leader," remembers former NDSA Executive Vice President Wade Moser of Bismarck. "He wasn't someone who yearned for the spotlight or delivered big, boisterous speeches, but he was a respected leader and great communicator because of his willingness to listen."

As president, Tokach worked to include every segment of the industry in the NDSA. He encouraged the development of both the NDSA Feeder Council and NDSA Seedstock Council and helped usher in the district roundups, now known as the Spring Roundups.

"Dick wanted to make sure we weren't missing something and he wasn't afraid to break tradition or develop new ideas," Moser said. "I remember conversations about the convention and how we could encourage more people to attend. Dick looked up and said, 'You know, not everyone can make it to convention, so maybe we need to go to their place so we can hear what they have on their minds.'" That was a catalyst for the district meetings.

Born on Oct. 13, 1932, to Matt and Viola (Weiss) Tokach at St. Anthony, Dick grew up on the family ranch his grandfather homesteaded in 1898. Dick returned to the ranch after attending Mandan High School and North Dakota State University (NDSU).

He married Theresa Elter in 1955 and together they created Tokach Angus Ranch. The couple instilled a love of agriculture into their family. Dick was proud when his sons joined him as working partners. Currently, all of his children and grandchildren are involved in production agriculture.

Dick was a steward of the land, a caretaker of livestock and a man of integrity. He believed in public service and served in many roles of leadership for the National Cattlemen's Association, National Beef Promotion and Research Board, National Live Stock and Meat Board and North Dakota Beef Commission. In addition to leading the NDSA as president, he also served as president of the North Dakota Angus Association (NDAA) and as chairman of the North Dakota Beef Commission.

Dick felt a duty to the community. He was a Morton County commissioner, North Dakota's state's representative, Mandan School Board member, Morton County Fair Board member, and St. Anthony Catholic Church trustee. At the time of his death, he was a member of the Spirit of Life Church, Knights of Columbus, St. Anthony Verein and many other organizations.

Dick is one of 19 individuals to be recognized with the NDSA's most prestigious distinction, the Top Hand Award. He was also named the NDSU Saddle and Sirloin Club's Agriculturist of the Year in 1993 and was honored with the Beef Cattle Improvement Association's Seedstock Producer of the Year Award, the Soil Conservation Achievement Award, the FFA Honorary State FFA degree, and the NDAA's Man of the Year Award. In 2013, Dick and Theresa were inducted into the North Dakota Agriculture Hall of Fame.

Dick is survived by his wife Theresa and their five children Richard (Kathy Graner) of St. Anthony, Amy (Matt Benz) of Beulah, Paul (Marlene Neibauer) of Mandan, Mike (Lisa Thomas) of Abilene Kan., and Brad (Nita Rinde) of St. Anthony. He is also survived by 12 grandchildren, one sister and a brother. He is preceded in death by his parents.

"Dad took a lot of pride in what he did, whether it was serving as president of the NDSA or building Tokach Angus Ranch," said Dick's eldest son, Richard C., who also became an NDSA president. Dick led his family much like the organizations he served – by listening to people, empowering them to make decisions and leading by example, not by sermon.