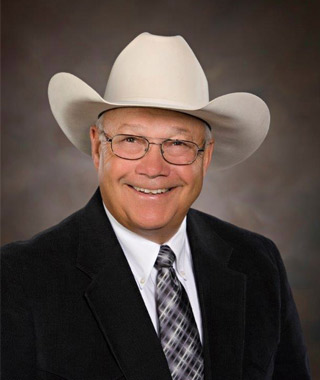 Terry Robinson
Bismarck
Family, friends and colleagues of Terry Robinson have ensured the memory of this industry icon will be preserved in perpetuity through their memorial gifts to the North Dakota Stockmen's Foundation in his honor. Robinson's tribute photograph hangs in the Stockmen's Memorial Hall.
Robinson, from Bismarck, passed away due to an accidental death at his home north of Bismarck on May 17, 2013.
Terry was born to Harold Warren Robinson and Evelyn Ella (Brown) Robinson on Aug. 8, 1948, in Eau Claire, Wis. He graduated from Mandan High School in 1966. In 1970, he graduated from North Dakota State University with a degree in psychology.
He married his high school sweetheart, Joyce, on Aug. 23, 1969. Together, they were blessed with two children, Cade and Kree. Over the years, the couple became grandparents to eight grandchildren.
Robinson served in the United States military and the North Dakota Army National Guard for more than 33 years. He enlisted in the Navy in 1970 and later transferred to the Army Reserve. He was commissioned as an officer in 1973. In 1979, he transferred to the North Dakota Army National Guard, where he served until Aug. 31, 2003, retiring at the rank of colonel. He attended the United States Army War College in 1995-96. His senior commands were commander, Engineer Brigade, 34th Infantry Division, Bismarck, and commander 164th Regimental Training Institute, Devils Lake. His highest federal award is the U.S. Army Legion of Merit. He also received from the U.S. Army Engineer Regiment the Silver Order of the de Fleury Medal. In 2009 and 2011, he was appointed the rank of brigadier general by the governor of North Dakota to act as the state flood recovery coordinator. His military career was one of the highlights of his life.
Fall 1970, he went to work for the ND REC Magazine as advertising manager. In 1981, he acquired part ownership of the Farm & Ranch Guide. Robinson was instrumental in creating a much loved rural paper that had a huge focus on the livestock industry. He served as livestock field directory for the Farm and Ranch Guide and, for the past several years, was also the director of livestock services for Lee AgriMedia, a staple of agriculture publications in the Upper Midwest. Always a friendly, smiling face that could be found at many sales, Robinson had a special relationship with cattle producers from North Dakota and the surrounding states. He felt close to each and every one of his accounts.
Robinson was a longtime NDSA member and supporter. He helped organize the inaugural All Breeds Cattle Tours and emceed many tours over the years. He was also a many-time convention sponsor and celebrated the future of the beef industry at the first-ever Stockmen's Ball.
Robinson's many hobbies included hunting, fishing and maintaining the rural yard he created. The annual Fall Grouse Fest with friends generated wonderful memories. His love of sailing and flying was a huge part of his enjoyment of life. His expertise in so many areas made him the person for family and friends to go to if they needed help. Many hearts were touched by his spirit, generosity and his love of God, family and country.
Robinson is survived by his wife, Joyce; his daugher, Kree R. (Troy) Nelson, Bismarck; his son, Cade M. (April), Bismarck; his sister, Patty Robinson, Bismarck; and his grandchildren, Grace, Lily, Hazel and Nathan Robinson and Madalynn, Emma, Olivia and Salvador Nelson. He is preceded in death by his parents.