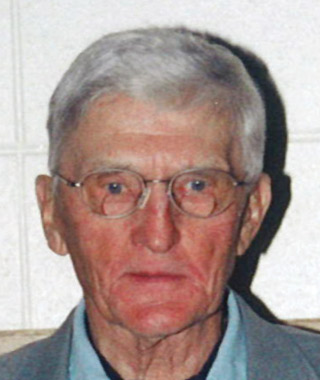 Paul E. Paulson
Halliday
The NDSA recognized Paul E. Paulson with its honorary membership award in 1999 and will forever remember the long-tune Dunn County rancher, organization member and former Advisory Committee member as his portrait hangs in its Memorial Hall. Paulson's family chose to pay tribute to the iconic western North Dakota cattleman through a gift to the North Dakota Stockmen's Foundation at the time of his passing. He was 101 years old.
Paulson was born on Halloween 1915, the son of Paul and Emma (Larson) Paulson of Werner. He was baptized and confirmed at the Ridgeway Lutheran Church near Taylor; graduated from Tayor High School in 1934; and attended Capital Business College for one term.
Paulson got is first job out of high school working on the Frank Osterwind Ranch, where he earned about $25 a month. He spent two summers in Yellowstone National Park, where he worked as a bus boy in a restaurant where he was able to serve and shake the hands of President and Mrs. Franklin D. Roosevelt. He also served in the War Training Service, a branch of the U.S. Air Corps, during World War II for a year and a half.
Paulson maried Ruby Nodland on Jan. 23, 1943, in Glendive, Mont. The couple was blessed with five children, Gary, Dennis, Pulette, Sonja and Nikki.
They farmed and ranched south of Halliday until their retirement in 1978, They ran Angus-Hereford-cross cows and backgrounded their calves over the winter. In 1999, he joked, I learned how to write my name really well on the many mortgages involved in the ranch!
Over the years, Paulson shared many memories of his ranching days. In 1999, he said, I remember the good years and the bad years, the good prices and the poor prices, the spring storms during calving and how bad it felt every time you lost a calf. I also learned that it doesn't pay to do your work twice – first worrying about it and then doing it?!
Paulson also worked a short time as a roustabout in the oil field. He continued to live and work on the ranch until 1991, wen he and Ruby moved to Dickinson.
Paulson was always willing to lend a helping hand to his family, friends and neighbors. He will be remembered as a great rancher and conservationist, evidenced by the thousands of trees still growing on his ranch.
Paulson was a member of the Marshall Lutheran Church in Marshall and St. John's Lutheran Church in Dickinson. While in Marshall, he served as chairman of the board, treasurer and trustee, as well as on the Big Flat School Board and as a 4-H leader.
NDSA activities were amoung his favorite social events. He and Ruby, who was the treasurer of the North Dakota Cowbelles, looked forward to the convention as an annual outing. In 1999, Paulson explained his rationale for joining the NDSA: "Who could resist the oratory of Delbert Moore, the storytelling of Ray Schnell, Sr., and Jim Connolly dancing by and saying, '"This beats pitching hay all to heck?"'
Along with the NDSA, Paulson belonged to the Elks, the American Legion and the 50 Years in the Saddle Club.
He enjoyed visiting in good Norwegian tradition with anyone around a cup of coffee, which he gave credit for his long life. He was witty with the one-liners and enjoyed writing poetry and stories, watching rodeos, square dancing, playing pinochle and being a Minnesota Twins fan. Pauson discovered the game of golf at the age of 65 and played for many years, outliving all of his partners. Similarily, he loved to water ski on Lake Sakakawea and did that until his mid-60s.
Paulson is survived by his wife of 74 years, Ruby; one sister, Dorothy (David) Domanski, of Canyon Lake, Calif.; four children, Gary (Lyla) Paulson of Park River, Dennis (Carollyn) Paulson of Rapid City, S.D., Paulette (Paul) Huber of Dickinson and Sonja (Dean) Bergstedt of Washburn; 11 grandchildren, Brian, Kristen, Jon, Beni, Brady and Sady Paulson, Allison Smits, Jesse and Ann Schoenberg; 12 great grandchildren, Blake, Paige, Cheyden, Londyn and Berkley Paulson, Matthew Rohrich, Isaac and Zeke Schoenberg, Ruby and Lena Venneman and Nora and Charlie Huber.
He was prededed in death by his daughter, Nikki Paulson; great-granddaughter, Zoey Paulson; his parents, Paul and Emma Paulson; and his siblings, Edna, Gilbert, Mildred McDonald, Erling Paulson, Clifford Paulson and Ruth Rimmey.
Paulson passed away March 28 at St. Luke's Home in Dickinson, where he resided for four years.