Posted 06/03/2020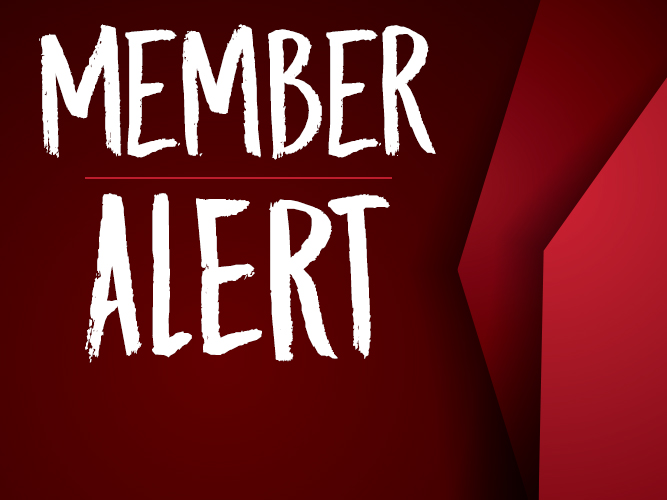 North Dakota Stockmen's Association Member Update: June 3, 2020
The North Dakota Stockmen's Association (NDSA) is continuing to work on issues related to the ongoing COVID-19 pandemic and other topics.
Following is an update:
Coronavirus Food Assistance Program webinar set for June 4
Producers who intend to apply for assistance through the Coronavirus Food Assistance Program (CFAP) will have an opportunity to learn about the program during a webinar that North Dakota State University Extension and the Farm Service Agency are hosting

Thursday, June 4, at 11 a.m. CT.
During the webinar, Ron Haugen, NDSU Extension farm management specialist, will discuss the payment calculator and show examples of various crop and livestock situations.

To register for the webinar, click here. Participants may ask questions during the live webinar. The webinar will be recorded. The recording will be archived here for later viewing.
CFAP question answered: unharvested corn
The NDSA received several calls from producers with questions about whether their unharvested corn qualifies for CFAP assistance. Here is the answer from Farm Service Agency:
"For corn harvested after Jan. 15, 2020, and prior to the date of CFAP application, the quantity is included in 2019 total production and 2019 production not sold. If not harvested on the date of CFAP application, the acreage/potential production cannot be included on the CFAP application. However, please keep in mind applications can be revised through Aug. 28, 2020, so if this 2019 corn is later harvested after the initial CFAP application was filed and harvest was completed prior to Aug. 28, 2020, the CFAP application can be revised to include the additional harvested production."
GAO issues recommendation for cell-cultured meat regulation
The U.S. Government Accountability Office (GAO) is recommending that the U.S. Department of Agriculture (USDA) and U.S. Food and Drug Administration (FDA) strengthen existing efforts to prepare for oversight of cell-cultured meat. In a report released last month, the GAO analyzed the joint USDA-FDA regulatory framework for overseeing the production of cell-cultured meat and has recommended that the two agencies more fully incorporate leading practices for effective collaboration in their 2019 interagency agreement.
GAO released its recommendations as stakeholders are preparing to make cell-cultured meat commercially available. However, because the technology to produce cell-cultured meat at a commercial scale is still in development, GAO acknowledged there are limitations on the agencies' ability to make regulatory and other decisions at this time. For example, many companies have yet to disclose the ingredients in or the composition of their final products. Some have acknowledged that products will be largely plant-based, while others expect the majority to be comprised of animal cells. It is also not yet known whether the materials that are used to grow the cell-cultured meat, including structural scaffolding, will be edible parts of the final product. Without this type of information, regulators have struggled to establish enforceable labeling requirements. Stakeholders have also expressed concern about the ability of companies to ramp up production to a commercial scale and stressed that the impact to the environment, animal welfare and human health must be clarified when these products are produced at scale.
To learn more, click here.
Animal rights group shares locations of thousands of operations, including those in North Dakota
On May 31, the animal rights group Direct Action Everywhere (DxE) published an interactive, crowd-sourced map revealing the locations of more than 27,500 U.S. livestock operations and facilities, which it refers to as "factory farms," including several in North Dakota. The group claims that many of these farms do not appear in public records.
Known as Project Counterglow, DxE is calling upon users of the site to add new locations to the map, including photos and videos obtained by going to the farms and facilities. This tactic has previously been used by animal rights groups in Australia and the United Kingdom.
The Animal Agriculture Alliance has contacted the Federal Bureau of Investigation and Department of Homeland Security to raise concerns about the map. The National Cattlemen's Beef Association, as a contractor to the beef checkoff, is monitoring media pickup and social media conversations about the DxE map and Project Counterglow information, as well as any impact to consumer sentiment.
The NDSA encourages members to be on heightened alert for uninvited visitors to their operations and to avoid engaging with DxE or other action groups online.
Study: beef plays important role in heart-healthy and diabetic-friendly diets
A checkoff-funded study was recently published in the Journal of Nutrition demonstrating that individuals have flexibility to include up to about 6 ounces of lean unprocessed beef in their daily healthy dietary patterns as a replacement for carbohydrates (primarily from refined starches). This extra beef consumption does not adversely affect heart disease and diabetes risk factors in men and women at risk for type 2 diabetes. The study adds to the growing body of scientific evidence demonstrating that lean beef can be part of heart-healthy and diabetic-friendly diets. To learn more, click here.
NDSA goes virtual
The NDSA had to cancel its traditional June activities due to the coronavirus pandemic, but the organization remains committed to communicating with its members in alternative ways until everyone is able to gather again. At 6:30 p.m. CT, June 23, the NDSA will host the Virtual Spring Roundup. To register for the Virtual Spring Roundup, click here. The NDSA Feeder Council will also host a Virtual Feedlot Tour at 6:30 p.m. CT, July 9. A registration link for that event will be available soon.
"Intersection of the Cattle and Beef Industries" series continues
Cattle producers, consumers and decision-makers will have an opportunity to learn more about current issues in the cattle and beef industries through a webinar series that North Dakota State University Extension is co-hosting with Texas A&M Agrilife Extension and West Virginia University. The next webinar in the "Intersection of the Cattle and Beef Industries" series will be held June 4 at 7 p.m. CT.
The remaining webinar schedule is as follows:
• June 4: In-depth perspective of ground beef, heavy carcasses and imports
• June 9: In-depth perspective of domestic and international supply and demand
• June 11: Historical overview of the beef industry from "The Jungle" to today
• June 16: In-depth perspective of changes in how beef is supplied to grocery stores and restaurants
• June 18: In-depth perspective of the steer and heifer complex
• June 23: In-depth perspective of cow and bull complex
• June 25: In-depth perspective of drop credit, hide and offal
Registration is required to participate in the webinars. You can register here.
North Dakota Cowboy Hall of Fame honor
The NDSA is humbled to have been selected as a 2020 North Dakota Cowboy Hall of Fame inductee in the Special Achievement category. Induction will take place at a special 25th anniversary celebration in Medora on Friday, June 19, and Saturday, June 20. Event and ticket information can be found here. Please come celebrate this special honor with the organization.
Mental health resources
The coronavirus situation and a culmination of other factors have made this a stressful time for many farm and ranch families across North Dakota. Know that you are not alone. If you need someone to talk to, call a friend or a neighbor, our office or 211, a statewide 24-hour crisis intervention, health and human services information and referral line.