FIVE BUCKLES
Scott Ressler, Environmental Services Director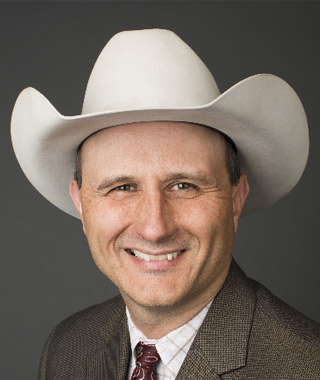 As I'm writing this month's column, I'm planning my presentation for the North Dakota State University (NDSU) Feedlot School. The school is an intense course for anyone interested in learning the ins and outs of the cattle feeding industry. Specifically, the course dives into feedlot production, nutrition, waste management and marketing. I have been fortunate to be a part of this event for the last several years.
This year, my presentation is entitled "Facility Design and Equipment." This is a great topic for me, because, in my 20-plus years of helping producers construct feedlots, I have had the privilege of taking lots of pictures showcasing different aspects of feedlots. North Dakota beef producers have great ideas and ways of constructing feedlots.
Senate Concurrent Resolution No. 4003
There is a resolution in North Dakota that, if passed, would designate the fourth Saturday in July National Day of the Cowboy. The following is some of the language in the bill:
WHEREAS, the cowboy embodies honesty, integrity, courage, compassion and determination; and
WHEREAS, the cowboy spirit exemplifies patriotism and strength of character; and
WHEREAS, the cowboy is an excellent steward of the land and its creatures; and WHEREAS, the core values expressed within the Cowboy Code of Conduct continue to inspire the pursuit of the highest caliber of personal integrity; and
WHEREAS, cowboy and ranching traditions have always been part of the American landscape and culture, and today's cowboys and cowgirls continue to preserve and perpetuate this unique element of America's heritage; and
WHEREAS, the cowboy is a true American icon occupying a central place in the public's imagination.
Many years ago, when NDSA President Dan Rorvig's daughter Amy was 10-months old, she was sitting in her highchair, twisting and moving all over the place. Dan's wife Teresa said to him, "Straighten her up."
Dan looked at Amy and said, "What are you doing with your life? Do you want to be this way forever? It's time to grow up."
Teresa didn't ask Dan to do anything for a long time after that.