Five Buckles
Scott Ressler, Environmental Services Director
Mandan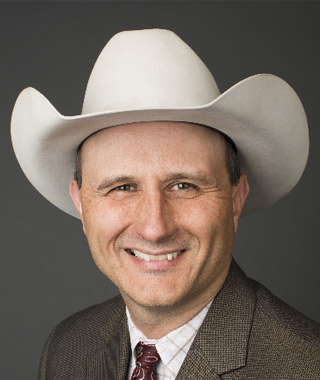 A fire closed the Tyson beef processing plant in Kansas in early August, causing considerable disruption to the cattle industry. This plant harvested around 6,000 head per day, or 375 head per hour, and represented approximately 5 percent of the total U. S. fed cattle processing capacity. Loss of this plant has added considerable uncertainty to our industry and, at press time, resulted in a major market response.
According to CattleFax, in order to compensate for the loss of harvest capacity, the major packing plants in Texas, Kansas, Colorado, Nebraska and Iowa, which represent 83 percent of U. S. fed slaughter capacity, would need to slaughter 8. 2 percent more cattle per week or run 3. 3 more hours per week to make up for the production lost at the Tyson plant. Saturdays will become key to stabilizing the slaughter volumes and holding the current status of fed supplies.
Last month, after the fire, a National Agricultural Center marketing analyst identified that cattle futures are finding a bottom, but, as many know, one day does not make a market. Information about market prices and cattle flows will be slow to surface and will be developing daily.
The fire at the Tyson plant did stress an already delicate balance between a relatively stable fed processing capacity and a growing fed cattle supply over the last several years. Filling in harvesting slots is much more complicated and involves lots of different factors, such as extra freight and labor demands. Most plants are already struggling with labor for their requirements, and adding hours will present new problems.
Additionally, at the time of the fire, the market was in the middle of the third quarter, when supplies are heaviest, slaughter weights are ramping up and competing meat supplies will begin their fall increase. This is the quarter with the highest volume of beef supplies, and forecasts are for sustained supplies into the fourth quarter.
The unknowns in the cattle market in the coming weeks and months, when many North Dakota calves will start hitting the market makes things worse. One thing is for certain: the loss of this functioning plant will impact all aspects of beef production, from the cow-calf producer to the end user.
The NDSA has been working on this situation from the beginning to protect our members' interests as the industry deals with this disruption. Visit our website, www. ndstockmen. org, for more information.
A while back, NDSA President Dan Rorvig celebrated another birthday. He reflected, "The truth about getting old is, when you fall down, you wonder what else you can do while you're down on the ground, and it's frustrating when you know all the answers, but nobody bothers to ask you the questions. "