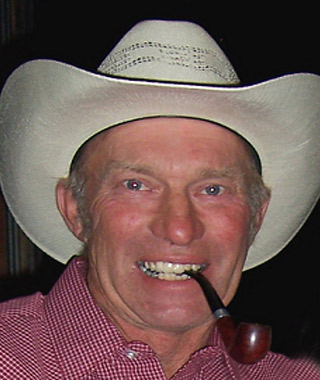 Wayne L. Johnson
Sharon
Wayne L. Johnson's family remembers him as a devoted husband, father, grandfather, brother and uncle, a skilled mechanic and welder, hard worker and selfless giver. Through their memorial gift to the North Dakota Stockmen's Foundation Wayne's memory will be preserved through a tribute photograph in the Stockmen's Memorial Hall.
Wayne, a rancher from Sharon, passed away on May 4 at Altru Hospital in Grand Forks, surrounded by his loving family after a courageous eight-month battle with amyotrophic lateral sclerosis (ALS), often referred to as "Lou Gehrig's Disease."
He was born Aug. 19, 1945, in Northwood to Norris and Clara (Beck) Johnson. He attended country school and then high school at Northwood Public School, graduating in 1963.
After graduation, Wayne farmed on the family farm. He was drafted by the U.S. Army in 1969, serving for two years, one in Aschaffenburg, Germany.
Following the military, Wayne returned home and continued his passion of farming and ranching with his family. The farm was very important to him, and he tended to the dairy cows, stock cows, farming, mechanic work, welding and Vermeer baler sales.
He married Mary Sondreal on Nov. 24, 1972, in Crookston, Minn. They were blessed with two daughters, Rendi and Darci.
Nephew Jeremy Johnson described Wayne as a "jack-of-all-trades," pointing out his special and self-taught knack for welding and fixing equipment and his adamance for good fences. "He would do all the fencing in the spring in conditions ranging from cold, rainy days to blistering hot 100-degree days, often pestered by mosquitoes," Jeremy recalled. "He would often come back to the farm after dark with jeans wet up to his waist and wet feet from fencing creek bottoms. He wouldn't let any weather condition keep him from fencing."
Brother Keith Johnson credits Wayne for having a hand in raising his own sons, referencing their special relationship and cooperative work as a source of joy for him.
"When my sons were old enough, Wayne accepted them into our operation and helped them get their start in farming and ranching," Keith explained. "Probably the most unselfish thing he ever did was quit actively farming and ranching to let my son Jeremy farm his share of the land after he graduated from college."
Keith still recalls the conversation about that. "I suggested that Jeremy could possibly work for us for a while and slowly work his way into the operation, but Wayne said, 'No. He has to be part of this place or he might go elsewhere,'" Keith said. "Not long ago, I asked Wayne if he ever regretted quitting and missing these last good years of farming, but he said, 'No. If you and I would have kept farming together, skimping on soil testing and fertilizer, we probably would've all gone broke!'"
Wayne spent many years serving as a township assessor. He was also on the Beaver Creek Church Cemetery Committee and Northwood Oil Board.
He enjoyed gun auctions and collecting guns, hunting, camping, rodeos, demolition derbies and smoking a characteristic corncob pipe. He also loved spending time with his family, especially his three grandchildren.
Wayne always had a smile on his face, and his positive outlook on life was evident to those he met. He loved visiting with people and made friends wherever he traveled. His big heart, caring nature, non-judgmental attitude and practical ways were respected by his friends and family.
He is survived by his wife of 40 years, Mary; his daughters, Rendi (Shane) Johnson-Ebach, Northwood, and Darci (Joe) Schettler, Killdeer; his grandchildren, Piper Ebach and Taylen and Ali Schettler; his sisters, Verna Stave, Northwood, Rose (Lynn) Teie, Thief River Falls, Minn., and Tammy (Paul) Hofer, Northwood; his brothers, Keith (Becky) Johnson, Sharon, Leslie (Marci) Johnson, Sharon, and Brian (Laurel) Johnson, Hatton; and many nieces and nephews.
He was preceded in death by his parents and a sister-in-law, Patty Johnson.