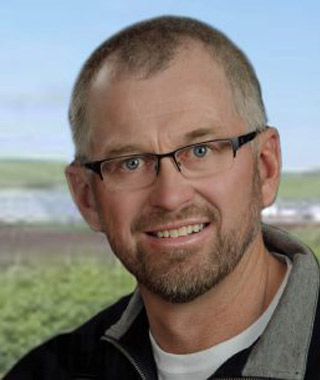 Duane Marsh
Dickinson
Friends of the late Duane Marsh of South Heart honored his memory by adding his portrait in the NDSA's Memorial Hall.
"Duane was a very good friend," said neighbor Carmen Rambousek of South Heart. "He really enjoyed the cattle business and was particularly proud of his herd of Red-Angus-cross cows." Marsh was born March 25, 1958, in Dickinson, the son of Richard and Frances (Volesky) Marsh. He grew up on the family farm, graduated from South Heart School in 1976 and continued to farm and ranch throughout his lifetime.
On Sept. 24, 1981, Duane married Doris Dukart at St. Mary's Catholic Church in South Heart. The couple made their home near South Heart and were blessed with five children, Vanna, Amy Larissa, Brielle and Emerson (twins). Duane, Doris and the kids ran a dairy operation until 2009.
Marshes were proud to raise their kids on the farm.
Farming and ranching were Duane's true passions. He also enjoyed fishing, playing pinochle, hunting in the Badlands, weekly calls from his best bud Dean and all the visits from his neighborhood pals. When it came to grandpas, Duane was called one of the best. Tractor rides, feeding the cows, ranger rides and wrestling will never be the same, his family said.
Duane was the glue for his family, an anchor for the neighborhood and "everything" for his wife. Faith and family were his strength.
He was always available to help anyone who needed him and was loved by everyone who had the honor of knowing him.
Duane passed away May 9 at St. Alexius Medical Center in Bismarck. His message would be to live a simple life and treat everyone like an honest friend.
Duane is survived by his wife, Doris; son Emerson (Tina Binsock) of Dickinson; daughters Vanna (Rob) Gassmann and their children, Isaiah, Lucah, Noah and Ella, of Clarksville, Tenn., Amy (Travis) Anton and their children, Brayden and Jaxon of Dickinson; Larissa (Gerald Sletmoe) of Fargo, and Brielle (Tim Bullinger) of Dickinson; his mother Frances Marsh of Dickinson; brothers, Dean (Bev) Marsh of Horace and Rick (Sheryl) Marsh of Dickinson; sisters Rosie (Jim) Perdaems of South Heart, Mona (Dallas) Carlson of Dickinson, Cindy (Ken Kuylen) of Pick City, and Sandy (Larry) Pavlish of Glendale, Ariz.