President's Message
Dan Rorvig, President
McVille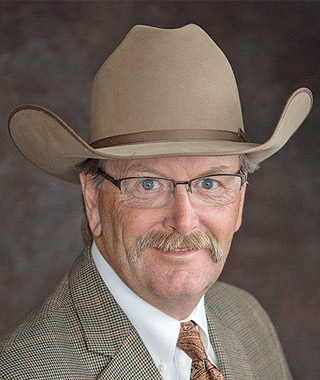 Welcome to September, folks. Summer came and went like a flash. The kids are back in school and the late summer/early fall hustle has started. I don't have to remind you North Dakota natives that we have seven months to do 12 months of work. I hope you have the hay up, the combines rolling and the corrals in order for fall vaccinations and weaning. I also hope the Bison are winning.
Speaking of kids in school, my wife Teresa and I have two kids, Amy and Scott. They did not come with the same operator's manual. One was frugal, the other one not so much. When Teresa took them school shopping, every time Amy put something in the shopping cart, Scott would take something out and put it back on the shelf. He's the kid who would use all the two-inch pencils the other kids had discarded. He would say, "I don't need new ones. They are all over the floor. I just reach down and pick them up. " He's also the one who had a royal, screaming fit in church when, after depositing his coins in the collection plate, the usher kept them. We still love them both.
Trade
Meanwhile, back to business. These trade deals continue to bounce around. The good guys negotiated a pretty good deal with the European Union from beef's standpoint. It's not a monster deal, but a good deal for producers nonetheless. Please continue to encourage that the United-States-Mexico- Canada Agreement be ratified. The fact it maintains our 25-year history of unrestricted, duty-free trade is huge. The jockeying and tariff issues with China and Japan continue to persist. These are huge market potentials for us. They want it. They need it. We have it. Let's get it to them.
Denver, Colo.
Several members of your association were in Denver, Colo. , recently to represent you at the Cattle Industry Summer Business Meeting. This is where the work gets done and policy is set. Some good news that I learned is that we are seeing close to a 12-dollar return on investment from your beef checkoff dollars. Encourage your banker or broker to beat that. Some bad news I learned is that the National Cattlemen's Beef Association (NCBA) has had to budget close to a half-million dollars for defense against the Ranchers-Cattlemen Action Legal Fund/Organization for Competitive Markets/Humane Society of the United States lawsuits. It's too bad we have to defend our industry from others in our industry. Why can't we all just work together? While I didn't get to all the committee meetings, I did attend as many as I could. One interesting meeting I went to was the Property Rights and Environmental Management Committee meeting. The discussion centered around the listing and delisting of endangered animals, specifically wolves and grizzly bears. I hope going forward, if animals are listed as endangered and a management plan is put in place, a definite goal is established at the onset. Today, the gray wolf recovery has exceeded the recovery criteria. The NDSA filed comments calling for it to be delisted recently.
Cattle numbers
Cowherd numbers continue to grow in spite of the horrific losses suffered in the Midwest earlier this year. The total cattle and calves inventory is surpassing the 100-million mark. Beef cow numbers are way above the 30-million number. These numbers seem to be where the economics of the cow-calf sector get sticky. But, thanks to beef producers raising great product and domestic and foreign consumers demanding it, we are still moving lots of product.
Convention
Plan to attend the NDSA's 90th Annual Convention & Trade Show, "This is Stockmen's Country," in Minot Sept. 19-21. We will have local and national speakers covering a number of topics, from preparing a bullet-proof contract to market situations and outlooks and Animal Disease Traceability program changes. You will also not want to miss Dr. Eric Berg and Jennifer Houston discussing their thoughts on fake meat. For fun, dig out your best Derby or horse racing attire for Friday's "A Night at the Races" Fun Night. Lastly, photographers, get your best photos printed and entered in the NDSA's Photography Contest. We want you there. We need you there. This is your grassroots opportunity to make a difference in your industry. This is where policy is set and the course is charted. This is where it happens. This is Stockmen's Country. As always, if in doubt, close the gate.