Posted 09/09/2021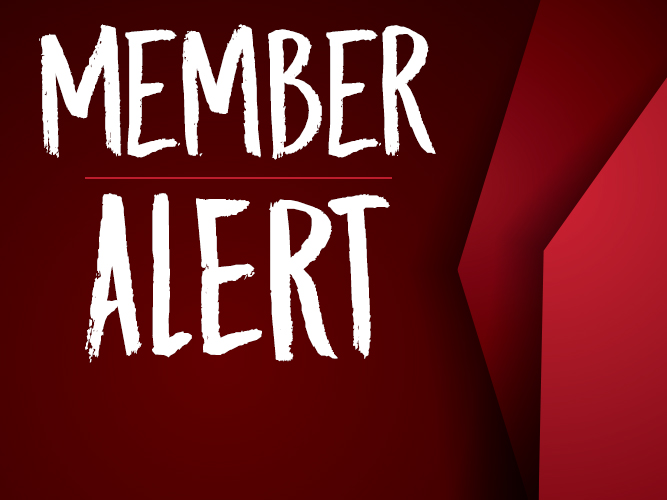 North Dakota Stockmen's Association Member Update:
Sept. 9, 2021
Pre-register for NDSA Annual Convention & Trade Show today to save
The NDSA Annual Convention & Trade Show, which is set for Sept. 23-25 at the Holiday Inn in Fargo, will be the state's cattle event of the year. The 92nd annual event, dubbed "Getting it Done in '21," will include informational speakers, policy-development sessions, a nearly 50-vendor trade show, networking and fun. Pre-register by today and save on registration and meal fees. Not sure what your schedule is quite yet? No worries. On-site registration for the full convention or just one day is also available. To print a registration form, click here.
A place to lay your head
For those coming from a distance for the NDSA Annual Convention & Trade Show, a block of rooms has been reserved at the convention headquarters, the Holiday Inn in Fargo. To make reservations, call (701) 282-2700 and mention the NDSA Annual Convention room block to take advantage of the discounted rate of $114 plus tax. Note that the room block will be released at the end of the day. If for some reason you reserved a room at the Holiday Inn for the convention and were quoted a different rate, please call the NDSA office at (701) 223-2522 and we will work to assist you. We understand that there was some confusion over the room block and some guests may have inadvertently been charged a higher rate.
Emergency Livestock Assistance Program to cover feed transportation
U.S. Secretary of Agriculture Tom Vilsack announced Tuesday that the agency will make changes to the Emergency Livestock Assistance Program (ELAP) to help cover the costs of feed transportation for ranchers in drought-stricken areas. ELAP already covers the cost of hauling water during drought, and this change will expand the program beginning in 2021 to cover feed transportation costs where grazing and hay resources have been depleted. These changes will apply in those areas that meet one of the following criteria: D2 for eight consecutive weeks; D3 or greater; or the U.S. Department of Agriculture (USDA) has determined a shortage of local or regional feed availability. For more information, contact your local Farm Service Agency (FSA) representative.
Cost-share assistance will also be made available to cover eligible cost of treating hay or feed to prevent the spread of invasive pests like fire ants.

Under the revised policy for feed transportation cost assistance, eligible ranchers will be reimbursed 60 percent of feed transportation costs above what would have been incurred in a normal year. Producers qualifying as underserved (socially disadvantaged, limited resource, beginning or military veteran) will be reimbursed for 90 percent of the feed transportation cost.

A national cost formula, as established by USDA, will be used to determine reimbursement costs which will not include the first 25 miles and distances exceeding 1,000 transportation miles. The calculation will also exclude the normal cost to transport hay or feed if the producer normally purchases some feed. For 2021, the initial cost formula of $6.60 per mile will be used (before the percentage is applied), but may be adjusted on a state or regional basis.

To be eligible for ELAP assistance, livestock must be intended for grazing and producers must have incurred feed transportation costs on or after Jan. 1, 2021. Although producers will self-certify losses and expenses to FSA, producers are encouraged to maintain good records and retain receipts and related documentation in the event these documents are requested for review by the local FSA County Committee. The deadline to file an application for payment for the 2021 program year is Jan. 31, 2022.
Feds release concentration in meat and poultry processing sector study
The National Economic Council (NEC) at the White House, in cooperation with the U.S. Department of Agriculture (USDA), released a study Tuesday examining concentration in the meat and poultry processing sectors. U.S. Secretary of Agriculture Tom Vilsack and NEC Director Brian Deese further elaborated on the study in a White House press briefing that afternoon. The press briefing video can be viewed here.
During the briefing, Vilsack reiterated that USDA remains focused on the four priorities announced in Council Bluffs, Iowa, in July: strengthen enforcement of the Packers & Stockyards Act; improve price discovery in the fed cattle market; and complete a top-to-bottom review of "Product of the USA" labels.
Record value achieved for July beef exports
U.S. beef exports set another new value record in July, according to data released by the U.S. Department of Agriculture and compiled by the U.S. Meat Export Federation. July export value climbed 45 percent from a year ago to $939.1 million, while volume was the third largest of the post-BSE era at 122,743 metric tons (mt), up 14 percent year over year.
July beef exports to the mainstay Asian markets of Japan, South Korea and Taiwan were relatively steady with last year, but at significantly higher value. Export volume growth was driven by record-large shipments to China and a strong rebound in Western Hemisphere markets compared to year-ago totals. For January through July, U.S. beef exports increased 18 percent from a year ago to 822,830 mt, with value up 30 percent to $5.58 billion. Compared to the pace established in 2018, the record year for U.S. beef exports, shipments were up 6 percent in volume and 17 percent in value.
NDSA, allies urge Congress to protect family-owned businesses with sound tax policy
The NDSA was among nearly 330 trade associations representing family-owned agriculture, food and related businesses that sent a letter to House Ways and Means and Senate Finance Committee leadership, urging them to consider the implications that changes to federal tax policy will have on businesses. The groups stressed to lawmakers: when drafting legislation to implement President Joe Biden's "Build Back Better" agenda, it is critical that the "American Families Plan" must also support family farms and ranches.

"Congress must consider the complex structure of family-owned agricultural businesses that serve as the backbone of rural economies; therefore, understand how changes to long-standing provisions in the tax code could be detrimental to the financial viability of these businesses as they transfer to the next generation," said Senior Executive Director of Government Affairs Danielle Beck for the National Cattlemen's Beef Association, another of the groups on the letter. "This is not a partisan issue; in fact, it's an issue that affects every single American. With more than 370 million acres expected to change hands in the next two decades, preserving long-standing provisions in the federal tax code is a win-win situation for producers and consumers alike. Whether their family has preserved the land for generations or they are a beginning, veteran or minority farmer getting their start in the industry – without federal tax policy that supports a viable business climate for the next generation of producers, building on the environmental and economic contributions of today's producers is impossible and risks compromising our nation's ability to produce a safe, abundant and affordable food supply."

Some federal tax policy proposals have been accompanied by the promise of purported protections to family-owned businesses. However, signatories on the letter stressed that those accommodations may not necessarily apply to the diverse complexity of ownership structures across family-owned agricultural entities. The only way to ensure the future viability of family-owned business, specifically farms and ranches, is to fully preserve critical provisions such as stepped-up basis, like-kind exchanges and the Section 199A small business deduction and to maintain the current estate tax code provisions, they wrote.
USDA grants aim to help farm, meatpacking workers with pandemic-related costs
U.S. Agriculture Secretary Tom Vilsack announced that $700 million in competitive grant funding will be available through the new Farm and Food Workers Relief (FFWR) grant program to help farm workers and meatpacking workers with pandemic-related health and safety costs. Additionally, to recognize the essential role and costs borne by front-line grocery workers, $20 million of this amount has been set aside for at least one pilot program to support grocery workers and to test options for reaching them in the future.